Welcome to today's feature presentation – The Ultimate Male Masturbator, the Mega bator review. Does this male masturbator, the Mega bator live up to the hype? Among the many hands-free male masturbators out in the market, what makes this stand out?
It is dubbed as the ultimate male masturbator. So what makes this such a smash hit among Pipedream products? If you are in the hunt for the best male masturbator, then look no further. Read on if you need help in deciding which male masturbator is the best for you.
Mega bator at first glance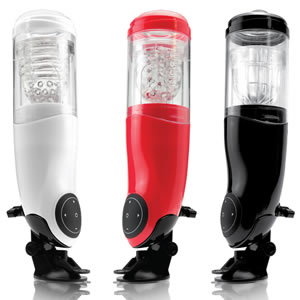 I am lucky to have received this product for review purposes and give it a try, well more than once, to write this comprehensive review of the Mega bator.
Pipedream created a unique hands-free masturbator in the Mega bator and it has features that confirm the innovative qualities of Pipedream products.
The Mega-Bator comes in three colors that represent its different types of sleeve openings.
Red is the replication of the feel of a woman's mouth as it takes on your manhood. [See details]
White is the replication of the feel of a woman's vagina as you penetrate and thrust it with your hard tool. [See details]
And Black is the replication of the feel of a woman's backside as she lets you enter her from the back door. [See details]

It looks a little like the male masturbator sleeve that we are already familiar with, but this does not look anything like realistic. Although, I must say looks can be deceiving.
Specifications
The Mega bator is 11 inches long, 3 inches wide and 3 inches tall. Its girth is at 9.5 inches and 3 inches in diameter.  The Mega bator has a vaginal insertion length of 4.75 inches. It weighs a total of 2 lbs.
When you order the hands free masturbator by Pipedream, you also get :
A bottle of lotion
A bottle of toy cleaner
Suction cup
It is stretchy and made of Phthalates-free materials. One-touch features included and the sleeve rotates, reverse rotates and thrusts at multi-speeds.
Mega bator features
The Mega bator has the following amazing features that I have already come to love:
Absolutely waterproof (which means it can be used in the shower.)
USB rechargeable
Rotates and strokes up and down
Has an attachable suction cup base which will hold the sleeve firmly in place. It can be used on the shower wall for example or any flat surface.
I enjoyed this feature most – it has a mechanism that will hold your mobile device up as it plays your favorite adult films and clips while the sleeve is working to masturbate you.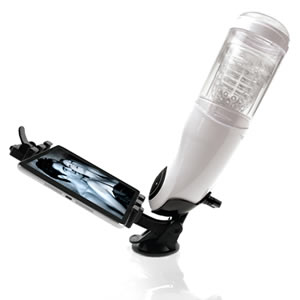 These are features you know will make it worth your money and more. But that's not all.
When I tried on the Mega bator, I was surprised with how realistic the feel was when you have penetrated the opening.
The material you can see from outside the transparent part of the sleeve shows the super soft internal Elastomer.
This part mimics how actual skin feels once lubricated and this is also the part of the sleeve that moves around when you use it.
When lubricated generously, the pleasurable sensations it will give you once in contact with your manhood will definitely impress you. Pipedream products really do lead the way in pleasing its customers.

Pros
It's hands-free
Multiple speeds and patterns
Multiple sleeve designs (anal, mouth, vagina)
Comes with section cup and mobile device holder
Well made
Cons
Takes 2-3h to fully charge
Can be a bit noisy
Cleaning
Nothing beats the way Pipedream has thought about the cleaning of this hands-free male masturbator. I mean, it's just easy peasy! When cleaning the sleeve after an invigorating and satisfactory experience, you just need to take the sections apart.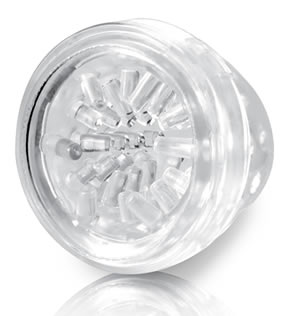 You'll see many instructional videos on youtube and articles about how it is done, but you'll also get a manual along with it when you order the Mega bator.
After taking it apart, you can remove the pleasure sleeve Elastomer and turn it inside out because it's very flexible and stretchable.
It is so easy to clean! And since it comes with its very own Pipedream cleaner, you only need to wash it and run water on it for it to be rinsed.
You can also use your favorite toy cleaner. Simply wash inside of the sleeve, take it apart and wash the rest of the parts and voila! You're done cleaning and all that's left to do before you store it in your protective storages is to let it out to air dry.
The Verdict
I am a fan of various Pipedream products and the Pipedream Mega bator is one of these.
I just love how innovative it is, especially with the mobile device holder that allows users to watch porn while using the hands-free male masturbator. Making replicas of how a woman's ass, mouth, and vagina feels like also caters to the different tastes men have.
Pipedream products are created according to what the consumers want in male masturbators and that's what makes this product stop of the line.

I give the Mega bator a 4.5 out of 5 stars. The price is a bit high and there is still some space for improvement, especially in mode section.