Want to skip the long reading? Here is our best rabbit vibrator winner: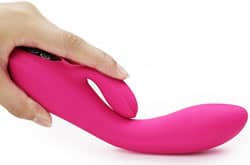 From my own experience, Adorime G-Spot is the best rabbit vibrator that combines the price, quality and the performance in just the right way. With 7 pleasurable modes and a very comfortable and soft material, it will give you trembling orgasms with every use.
The shipping package is discreet and it has a whisper-quiet working mode.
Getting one is one of the best things a woman can do for herself, that's why I want to help choose the best rabbit vibrator for your pleasure. Ever since they introduced a bunny vibrator in Sex and the City, women went crazy for this little pleasure maker.
I've tried many rabbit ears vibrator models during the years and I loved almost all of them. The best thing about them is that they give you both vaginal and clitoral stimulation at the same time. This combination is guaranteed to give you orgasms like never before… at least they do that to me.
Best rabbit vibrator for 2018
Of course, we are all different and some women reach orgasms easier than others, but rabbit style vibrator will satisfy even the most demanding ones. You can find the one you like in my reviews below or play it safe and choose the top-rated rabbit vibrator.
The list is a combination of rabbit style vibrators I already owned and some new ones that I was eager to test. I rated them based on the quality and materials they are made from, features they have and most importantly, their performance.
10. Rabbit Habit Vibrator by Vibratex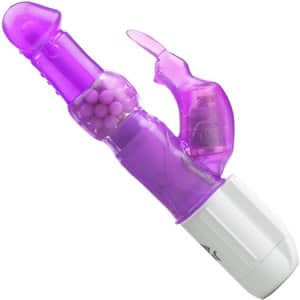 Rabbit Habit Vibrator by Vibratex is the model that was made famous by Sex and the City when Charlotte got addicted to it. This purple rabbit vibrator is also probably the first association when someone mentions them.
The rotating beads in the shaft together with the rabbit clit stimulator will finish you off just the way you want to. You can adjust when how you want your orgasms with 4 different intensities as well as with 5 vibration and 5 rotation patterns on this bad boy.
The rabbit habit vibrator is made with BPA, phthalate, and latex free material and it's compatible with all lubricants. You will also get a 1-year manufacturer's warranty if it doesn't satisfy your needs.
Pros
5×5 vibration and rotation patterns
Powerful operation
Rotating head
Easy to clean
Cons
A bit noisy
Not powerful enough for some
9. Pipedream 9.5" Rabbit Pearl Vibrator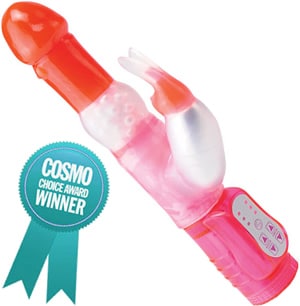 If you want a great affordable option, Pipedream's Rabbit Pearl Vibrator is a great choice. Despite its price, it's more than capable of giving you immense pleasure again and again.
This waterproof rabbit vibrator is easy to clean and phthalate, rocking your world safely. It comes in 3 twirling speeds and you can control vaginal and clitoral stimulation separately, choosing when and where to go for it.
The shaft is 7" long and 1.6" wide, while the rabbit measures 4"x1.2" and you will need 3 AAA batteries to power it up.
Overall, it's a quite simple and affordable solution if you are looking for your first ever rabbit pearl vibrator.
Pros
Spinning pleasure pearls
COSMO choice award winner
Great dual stimulation
8. Lyps Rotating Rabbit Vibrator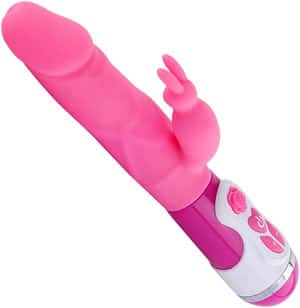 Rotating Rabbit Vibrator is one of the most affordable items on this alluring list. Despite its price, this pink rabbit vibrator features plenty of options to give you maximum pleasure.
It's made from FDA approved, medical safe silicon to give you very soft and smooth sensation. Also, the vibrator is very easy to clean thanks to this.
With 10 different settings, this rotating rabbit vibrator lets you choose a variety of ways to please yourself. Rotating head will give you amazing feeling during penetration, while the rabbit ears will massage the more sensual spots around the clitoris.
The package is 100% discreet, so nosy people won't know what are you ordering. Even though it's not the best rabbit vibrator out there, it's a great little toy for the price.
Pros
Very affordable
10 different settings
Rotating head
Discreet package
Cons
A little loud
Rotating can be rough
7. Adam's gift Rechargeable Rabbit Vibrator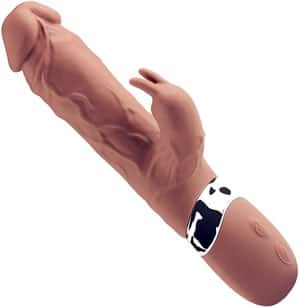 Unlike previous models, Rechargeable Rabbit Vibrator by Adam's gift looks much more realistic. If you don't want shiny and colorful vibrators but like your vibrators to look like a proper penis.
This meaty-looking vibrator is impressively bendable and therefore great for G-spot stimulated orgasms. Adam's gift G-point vibrator has a range of 7 different speeds for a different level of pleasure and intensity.
It was quite straightforward to use with only two buttons, one for power and the other for you to toggle the intensity. Besides the lifelike look, the soft silicone and medical grade ABS feels great when you put it in.
This material is perfect for a waterproof rabbit vibrator and it's easy to clean and maintain. The great thing about it is that it's a rechargeable rabbit vibrator, so you don't have to swap batteries every now and then.
Pros
Ergonomically looking
Feels lifelike
Easy to clean
6. Adam & Eve G-gasm G Spot Rabbit Vibrator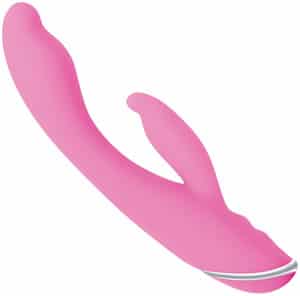 As its name might imply, this vibrator is fantastic for G spot stimulation and it will give you incredible orgasms. Not only that this silicone bunny vibrator is waterproof, but it's actually completely submersible too so you can even enjoy it while bathing.
Like any good G spot rabbit vibrator, it has very flexible 6" long insertable body measuring 1.25" in width. You can toggle between 7 different speeds and functions depending on how sensitive you are and how quickly you want to get satisfied.
Personally, I got the best results with speed 5 and I liked how well it moves with the body. I didn't quite like that the button was a bit awkward to reach when going at it.
Overall, this is a nice and affordable G spot vibrator that does what it should and feels comfortable with the touch.
Pros
Amazing G-spot stimulation
Completely submersible
Great design
5. Nalone G-spot Pink Rabbit Vibrator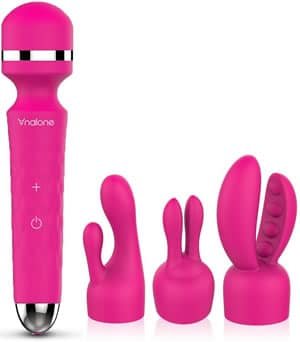 This one is actually not just any pink rabbit vibrator, rather than one of the most versatile and best rabbit toys out there. This Nalone G-spot model comes with 3 different attachments and can be used as a magic wand massager without them.
Two of the special attachments works as rabbit sex toy, giving you clitoral and vaginal satisfaction at the same time. The third one is "rabbit ears" attachment for more intense playing with the clit.
This powerful rabbit adult toy is rechargeable and smooth silicone on this beast is waterproof too. I like that the wand head is incredibly flexible and gives a 360-degree rotation for your maximum pleasure.
The wand works at 7 different speeds and can be used for 2 hours between charges. Considering what it offers, this pink rabbit vibrator is affordable too.
Pros
Three different attachments
Serves as a massager
Flexible wand head
Cons
Hold to start power button
A bit noisy
4. Wet Wabbit Rotating Rabbit Vibrator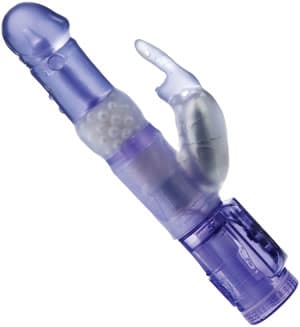 If you ignore its cringy name, Wet Wabbit rotating rabbit vibrator is another great vibrator with the easily recognizable Sex and the City rabbit design. Rotating tip will give you a lifelike feel and can rock your world during every use.
The waterproof Wet Wabbit has 3 different rotation and 3 vibration speeds. You can combine these to get the just the right stimulation your lady parts need, you can also reverse the direction of the rotation.
The insertable part of the vibrator is 5" inches long and 1.5" wide and it's made from smooth and flexible jelly, giving you a more comfortable feel.
The purple rabbit vibrator is safe to use with preservatives and can be combined with silicone and water-based lubes.
Pros
Comfortable jelly material
3 speeds for both vibration and rotation
Great clit stimulation
Cons
Slightly noisy
Needs batteries
3. Jopen Vanity Purple Rabbit Vibrator Vr16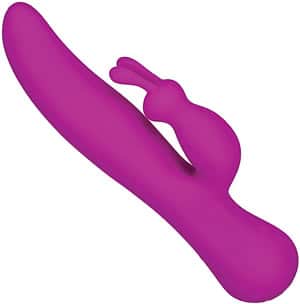 Jopen Vanity Vr16 purple rabbit vibrator is probably the best rabbit vibrator that I got to enjoy. I would absolutely recommend it to anyone if there wasn't for a price as high as that.
The vibrator is ergonomically shaped for maximum satisfaction and made with 100% non-porous silicone with the virtually seamless satin finish.
Incremental speed control with dual motors for vibrating and rotating will give you full control over your orgasms. I love how discreet it is.
You practically can't hear it and it also has a travel lock so you don't end up with the embarrassment of a purse that vibrates. It starts and stops instantly so you can react quickly in case of an interruption.
The only thing I dislike about this amazing sex toy is its price, but I can understand why it is that high.
Pros
Whisper-quiet operation
Adjustable vibration speed
Long battery life
Quick shut off and lock
2. Fifty Shades of Grey G Spot Rabbit Vibrator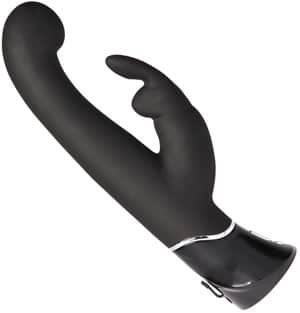 The series that brought the world of sexual fantasy to the popular masses is also responsible for Fifty Shades of Grey G spot rabbit vibrator. This powerful looking, black rabbit vibrator is equally as powerful when it comes to its operation.
The FSoG vibrator features an impressive range of 36 different speed combinations (3×12) with the two motors in this beast.
The rechargeable Greedy Girl is one of the models approved by E.L. James herself. It's made from a soft and flexible waterproof silicone giving a satin like feeling against your skin. Cleaning is incredibly easy thanks to this.
The curved tip and the flexible head will make sure to reach just the spot you want while the rabbit ears stimulate your clit to leg-shaking orgasms.
The Greedy Girl also has a flat base so you can place it upright if you don't need to hide it.
Pros
Soft and sensible
36 mode combinations
Approved by E.L. James
Cons
Too intense for some women
1. Adorime Rechargeable Rabbit Vibrator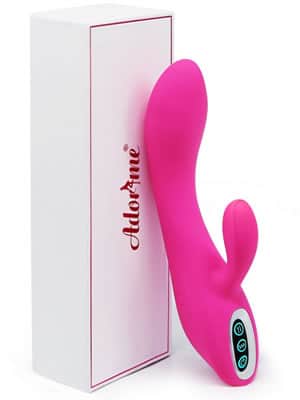 Finally, we come to my favorite vibrator and the best rabbit vibrator that you can get for your money, the Adorime G-spot model.
First, I got it in a completely discreet packaging together with a 30-day money back guarantee and a 1-year warranty.
This beautiful rechargeable rabbit vibrator features innovative magnetic charging which you can plug in in a USB port too. It's made with silky smooth, 100% waterproof, antimicrobial silicone and it cleans effortlessly.
Two powerful motors will give you 7 interesting vibration modes to choose from and stimulate your G-spot and your clit just the way you want to.
Adorime is equally popular with both beginners and more demanding vibrator users. They could probably double the price and it would still sell great, but don't mention it to them.
In terms of performance that you get for the money, this small rabbit vibrator is the best choice that you can make for mindblowing orgasms.
Pros
Great value for the price
Very quiet
Smooth sensation
Great rating on Amazon
Cons
Magnet charger can cause some problems
How to Use a Bunny Vibrator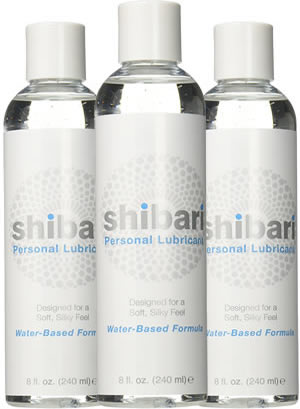 I get asked a lot to explain how a bunny vibrator works and it's pretty straightforward. The shaft, naturally, goes in for vaginal stimulation while the little bunny stimulates your clitoris.
However, I like to start gradually and warm up and you should definitely do this if you are a starter.
First, stimulate your clitoris with low intensity and then slightly start inserting the shaft too while gradually increasing the intensity and speed. Most importantly, don't forget the lube.
Always check the instructions to see which one is compatible, but I generally suggest water-based lubes for all bunny sex toys with natural materials.
How to Choose a Rabbit Vibrator
If you want the "classic" bunny vibrator model, then you are looking for a Sex and the City vibrator that locked Charlotte into her room. But nowadays there are tons of options to choose from, it's not just choosing a large rabbit vibrator or small rabbit vibrator. Here are the key elements you need to look for in a bunny vibrator:
Head – Generally you can choose between 3 basic shapes. The thick head, curved tip head, and a more natural looking had that balances between the first two.
Shaft – Besides the size, when choosing a shaft you can most of the time choose between rotating shaft, twirling shaft, vibrating shaft and trusting shaft depending on what you want the most.
Functions – It's important that you get to know the options before choosing your rabbit sex toy. You will probably want to have enough modes to choose from as well as practical buttons to toggle them on.
Bunny ears – Ears on a bunny vibrator can usually be double or single, where the single ones give a more gentle massage. Also look carefully at ears placement since this will decide how deep can you go.
Where to Buy the Best Rabbit Toys?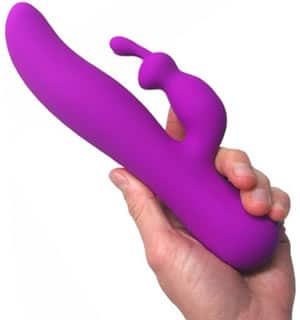 If you are not easily embarrassed, you can always go to a local sex shop where you can touch and see them before buying them.
However, I tend to stay away from them as they usually have poor selection and some of them look and feel very shady.
Buying sex toys online is such a pleasure. Everything's more comfortable, especially with the shops that send discreet packages, and you can choose from tons of different models.
Besides well known online sex shops like Adam & Eve and Babeland, Amazon is one of the best places to buy them. They offer lowest prices, you can browse the reviews and the toy comes in a regular Amazon box so nosy neighbors won't find out your secret.
Rabbit vibrators have been rocking the worlds of many women for years and now you know how and when to choose one that will do the same for you. I did my best to give the best insight for each one that I tried. Hopefully, I helped you in finding the best rabbit vibrator and that you will experience infinite orgasms with it.