I am so full of excitement for having the chance to taste the Satisfyer Pro 2 Next Generation! I have already tried the original Satisfyer Pro 2, which I totally loved it for its magnetic charging system, waterproof materials, and rechargeable USB.

Now, I am able to compare the two of these amazing toys and I can write you about the differences between them, about the improvements of the new model, about how this new clit vibrator feels, its functions, materials, vibration strength, battery life and design, as well as about all the other aspects you need to know about it.
Satisfyer Pro 2 Next Generation overview
I must start this Satisfyer Pro 2 review by telling you how this toy feels like while using it. Just like its predecessor, this clit massager offers a tremendous amount of pleasure each and every time I use it. The clit is simply and totally conquered by the increasing waves of pleasure, even at mid-ranges intensities.
This extra pleasure is due to the touch-free massage effect, innovative vacuum technology and due to the oval head of the toy.
At the bottom of the product, is a small button that you have to press for about two seconds to turn on the toy and to activate the lowest level of intensity of the 11 available.
Simply press the larger oval button if you want to increase the intensity. Once you used all the 11 levels by pressing that button, you can reduce the intensity by pressing the same bigger oval button.
If a level feels too intense, you can easily flip back, which is a huge advantage offered by this satisfyer.
The LED on the control panel will stay lit for as long as you use the sex toy. If you want to turn off the satisfyer, just hold down the smaller button.
Satisfyer Pro 2 Next Generation is ideal if you prefer a fast orgasm. Not only your climax will come much faster than with a normal vibrator, but you can have consecutive orgasms.
Design and materials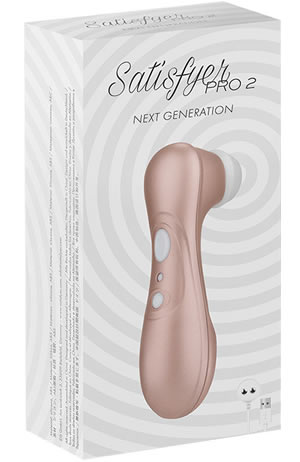 The new model of Satisfyer Pro 2 is made of body-safe materials, just like its predecessor. The white head of the toy, the one that comes in contact with the body of the one that uses it, is made of body-safe, non-toxic and non-porous silky silicone.
Also, the copper-toned body of this product is made of sturdy, firm ABS plastic. With a matte surface and a silicone nozzle at the top, this clit massager has a rechargeable Li-Ion battery, a USB interface and a magnetic USB charging cable that comes with the product.
You can use this toy for about 2 hours before it needs to be charged. It takes about 4 hours to charge it, at 500 mA maximum charging current and a 5V charging voltage. With a design that makes it look like a short hairdryer or like an ear thermometer, this satisfyer has a 2.5″ depth at its longest point, a 2″ width and a 6.5″ height.
The battery has a capacity of 450 mAh and the product comes with a 5-year warranty. This toy that offers a touch-free and pressure wave clitoral stimulation is easy to be cleaned. For a regular cleaning, you can rinse the toy's head separately, with soap and warm water.
You can also submerge it in some hot water and let it run for a minute after you turned it on. The product is waterproof, so you can have a lot of fun with it underwater, but you don't have to let it get wet during its charging.
For even more excitement, it is recommended to use it with a water-based lubricant of a good quality.
Enter offer code
"EP20"
at checkout at
EllaParadis.com
and get
-20% off site wide.
Original Satisfyer Pro 2 Vs. Next Generation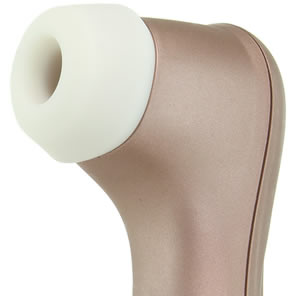 Comparing Satisfyer Pro 2 Next Generation to the original Satisfyer Pro 2, we can see some major differences. One of the most important and also very welcome addition is the speed control with plus and minus buttons with which you can increase and decrease the intensity.
This makes the experience of using this product a very much smoother one. You don't have to use a single button to change the intensities, like on the original model. The power button is separate, just like the previous Satisfyer Pro 2 model.
Compared to the previous one, this new satisfyer model is a very silent one, due to the whisper quiet mode and due to the updates done on the engines. One thing you have to take into consideration before turning this toy on is that the noise level is higher when the product is away from your body.
Once you put it on your clitoris, the sound is very soft. Next Generation's color is more matte, so you don't have to worry about confusing it with the older model if you have them both. The lights of the Satisfyer Pro 2 Next Generation are less bright and the ones of the original model.
Pros
Plus and minus buttons for the speed control.
Waterproof.
11 intensity levels.
Whisper quiet mode.
Rechargeable Li-ion battery.
Cons
No storage pouch.
No changed design.