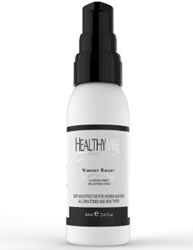 Healthy vibes all natural intimate skin lightening cream is the product of today's spotlight.
If you are interested in getting your overall appearance improved, need a confidence boost, then you should you try anal bleach. Most of these anal bleach creams work to lighten other intimate parts as well.
If the option of anal bleaching at home is for you, you should choose the right products to help you achieve your goal – evenly toned skin overall. Let's check out how this skin lightening cream fares when I gave it a test drive for a couple of weeks.
The Healthy vibes claim
HEALTHY VIBES advertise their cream to be the product of years of studies and trials. Staying true to their name, they designed a healthy skin lightening cream that is intended to remove the following: acne scars, birthmarks, skin blemishes, excess pigmentation, dark spots and dark intimate areas. Healthy Vibes aim to help everyone get over being self-conscious and the need to hide those dark areas.
Ingredients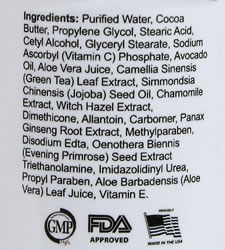 Healthy vibes have a lot of ingredients. They are all natural ans safe to use. Here you can see them all:
Purified Water, Cocoa Butter, Propylene Glycol, Stearic Acid, Cetyl Alcohol, Glyceryl Stearate, Sodium Ascorbyl (Vitamin C) Phosphate, Avocado Oil, Aloe Vera Juice, Camellia Sinensis (Green Tea) Leaf Extract, Simmondsia Chinensis (Jojoba) Seed Oil, Chamomile Extract, Witch Hazel Extract, Dimethicone, Allantoin, Carbomer, Panax Ginseng Root Extract, Methylparaben, Disodium Edta, Oenothera Biennis (Evening Primrose) Seed Extract Triethanolamine, Imidazolidinyl Urea, Propyl Paraben, Aloe Barbadensis (Aloe Vera) Leaf Juice and Vitamin E.
A closer look
Healthy Vibes is indeed made of all natural ingredients, as you can see in the list of ingredients. This DIY anal bleaching product has no fragrances, dyes and especially not a trace of Hydroquinone. The combination of all these components makes up a cream that can be applied to any part of the skin, especially in the most sensitive areas. This anal bleach can be used on the face and will even out the skin tone, remove scars and acne marks including other dark spots you may have had for years.
I especially love how they placed the cream in a pump dispenser that makes it easy to use. Other anal bleaching products place their creams in a tub or bottle. The pump helps you avoid possible contamination if you scoop cream with your fingers like I do when I'm in a hurry.
As usual, for best results apply 2 times daily on dark areas. Better shave or wax off all the hair to get the cream directly onto the skin. Using Healthy Vibes properly will give you results in as fast as two weeks.
Take note!
When I try out new bleaching creams, I dab a small amount on my arm, just to test for any allergic or uncomfortable reactions. Healthy Vibes did not irritate my skin and thanks to its use of all natural ingredients, I was able to enjoy DIY anal bleaching without a hitch. But should you experience any irritation, you should discontinue use immediately. If the irritation worsens, consult a physician and make sure it is out of the reach of children. Avoid getting it in your eyes as well. This general instruction goes for all skin products you intend to use.
Conclusion

This Healthy Vibes Review is a product of my own experience with this anal bleaching cream. I give it a 4 out of 5 stars rating because it works faster than most anal bleaching products. If you use the cream properly, you get results in two weeks, most creams take eight weeks for results to be visible. I also loved the pump bottle, the use of all-natural ingredients and the fact that it can be applied to the face to remove acne marks.