In this review, we will talk about the product Fuck Me Silly Dude by Pipedream. This gay masturbator is Pipedream's response for people who want a toy that will allow them to be penetrated by a realistic dildo and fuck doll.
What are the advantages and disadvantages of this male masturbator? How is it used? And more importantly, how is it cleaned? These are a few of the questions we aim to answer in this fuck me silly dude review. So if you are wondering if you should get your own mega masturbator, read on.
What is Fuck me silly dude?
This mega masturbator by Pipedream is a realistic recreation of a very hot man. We are talking about a well built, chiseled to perfection model ala Adonis. It comes with washboard abs, muscular chest, an awesome waistline and huge dong.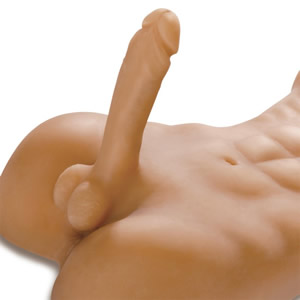 Actual size is: Length: 8″ (20.3 cm) Circumference: 5.25″ (13.3 cm) Diameter: 1.75″ (4.45 cm).
It stiff enough to be ridden, not too hard and just like a real guy's erect manhood.
Fuck Me Silly Dude is a doll comprised of a recreation of man's neck, shoulders, and chest as well as the lower part of the torso – penis, scrotums and a backside complete with an anal canal.
The idea is to give customers their very own boy toy to do whatever they please. They can reenact their wildest sexual fantasies any time they want. It is nice to enjoy all the pleasure of an almost real intercourse without the complications of finding a sex partner.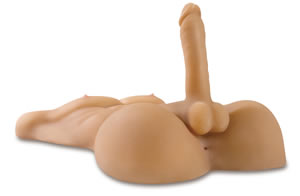 Although the Fuck me silly dude is intended to be a masturbator, it can also be a sex toy you can play with your partner. Think in terms of a hassle-free ménage à trois.
Those who already have the toy are raving about its very realistic feel and appearance. All that thanks to the Pipedream innovation called Fanta-Flesh.
The box is shipped weighing 41 lbs. Comes with lotion, revitalizing power and toy cleaner.
How to use the Fuck me silly dude mega masturbator?
I bet both gay men and straight women will immediately be turned on once they see the realistic doll. It is so life like that intentions will immediately come to mind as to how you'll get the most fun out of it.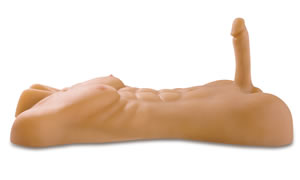 As a masturbation toy, you can put it on the bed, lie it down on its back and have fun sucking or riding its thick, but the bendable life-like dildo.
Let your sexual desires guide you in playing with the soft, supple Fanta-flesh toy. It feels as if you are doing it with a person and not a doll. It is awesome how the material warms to your body temperature, making the experience even more realistic.
The tight ass of the doll can be penetrated with toys, your finger, your tongue and you know what else. You can easily get lost in the motions, thinking you are having fun with the real thing.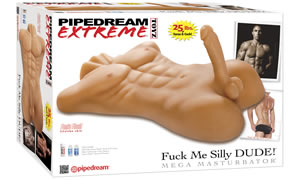 Maybe even better since its anal opening is tight, the dildo will never go limp and the doll will never complain!
You and your partner can turn your mundane bedroom activities exciting with the fuck me, silly dude.
Take turns pleasing yourselves or go full beast mode on it at the same time. Let your imagination flow and you'll have one hell of a time with the fuck me silly dude mega masturbator.
How to clean Fuck me silly dude?
After having tons of fun, cleaning it up should always be done to keep the toy in tip-top shape. Fuck me silly dude comes with its own Pipedream Toy Cleaner, but any toy cleaner will do plus warm water.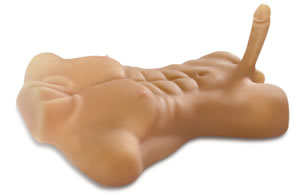 Basically, you're supposed to wash it and let dry. But because of its size, it would be nice to take it to the bathroom instead of the sink and wash it there.
Do not soak or get water inside the toy because it will ruin the lining. But you do need to clean the anal canal to remove lube or other fluids that might have accumulated there.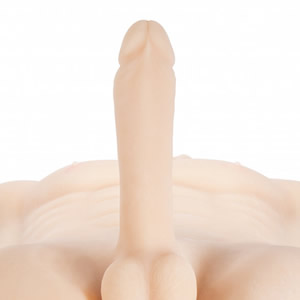 After cleaning the masturbator, let it dry completely and then apply the Pipedream Extreme Revive cornstarch powder.
This will keep the fanta-flesh soft and supple, keeping this gay masturbator looking and feeling brand new.
Store it in a closet or under the bed once you have put it back in the box. Yes, it does take up space, but this is your boy toy we are talking about and not an inflatable doll.
In a nutshell
For its price range, the fuck me silly dude mega masturbator is a product that exceeds expectations.
Aside from cleaning and storing it, there really is no problem with it.

I give it a four out of five stars, because we should always leave room for improvement even for an impressive product such as the fuck me silly dude.