If you are interested in purchasing Pipedream's Fuck Me Silly 3 and want more information before the actual order, here is our Fuck Me Silly 3 Review. Hopefully, through this article, you will find the deal maker or breaker you use in weighing your options.
FUCK ME SILLY 3 AT FIRST GLANCE
Pipedream Extreme's Fuck Me Silly 3 is a Mega Masturbator. It is a doll used for masturbation and more. This Fuck Me Silly is different from those other dolls made by Pipedream because this one has long silky legs and size 6 1/2 feet. While the other Fuck Me Silly dolls show us the torso, this caters to the needs of those with a foot fetish.
Fuck Me Silly 3 specifications:
Size Length: 43.00 inches
Size Width: 14.00 inches
Weight: 32.45
The package includes a bottle of lotion, a bottle of toy cleaner and a reviving powder. The doll is made of Pipedream's very own creation – FantaFlesh.
[yellowbox]Click here to get
more details about Fuck me silly 3
[/yellowbox]
THE GOOD
This male masturbator is a replica of a woman's torso down to her feet. And not just any woman, mind you, a really sexy and long legged woman to be precise.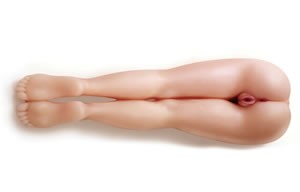 Designed to look and feel realistic and lifelike, this male masturbator in the form of a woman's lower half can be penetrated through the vaginal and anal tunnels. Both openings are tight and pleasurable for a man to thrust into.
The fuck me silly 3 mega masturbator is warm, tight and super-soft – just like a real woman. Pipedream made sure every curve is paid attention to and recreated realistically. The attention to detail is precise which makes the doll arousing just to look at.
Fuck Me Silly 3 is a gorgeous male masturbator that will make feet, calf and leg lovers happy. And like a real doll, you can dress it up during play. It is good to use on your own as a masturbator but perfect as well for foreplay with a partner.
THE BAD
With over 30 lbs of super-soft Fanta-flesh, the toy can be a bit difficult to clean.
Fuck Me Silly 3 is not a submersible toy, you could, however, run water lightly over it when you clean it. And since you will be using lube and even come inside its anal and vaginal tunnels, you need to clean these canals too. Good thing is, the tunnels connect to a drain. Make sure the doll is completely dry before storing in a box under your bed or in your closet.
Since you want a realistic doll to play with, cleaning it won't be the same as cleaning other toys. It is not a deal breaker though because it comes with the package. Just follow the instructions and you can get the most out of this quality sex toy.
THE KINK
The primary kink in this toy lies in the fact that it is so realistic. And yes, you get sexual satisfaction, the same kind of pleasure as doing it with a person, minus all the hassle. No complaints, no judging and certainly, since it's just a doll you can pretty much do anything you want to get the most arousing experience.

The big round ass, the cute toes, the sensually long legs and the sexiness of the Fuck Me Silly 3 Mega Masturbator is just mighty fine that I give it 4 stars out of 5.
If you like my review, please like and share.
[yellowbox]If you want to find out even more about Fuck me silly 3 mega masturbator, then follow
this link
.[/yellowbox]