I am more than thrilled to be one of the people who already tested the Satisfyer Pro Penguin Next Generation! Especially after I experienced a lot of pleasure with the first generation of this toy.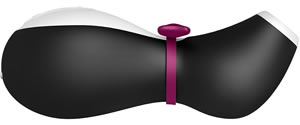 From the three sex toys I tried at that time, the Satisfyer Pro Penguin was the one that I chose as my favorite. I liked its integral push-in button, magnetic USB interface, pressure waves and for being waterproof.
Now, I am very happy to be able to compare the original Satisfyer pro penguin and the new model. Looking forward to see which are the improvements and the differences.
Satisfyer Pro Penguin Next Generation overview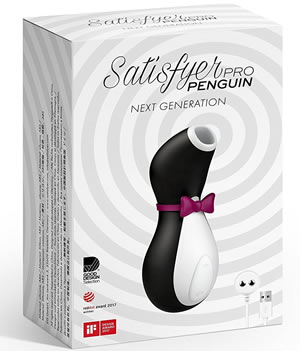 This Satisfyer Pro Penguin review must begin with my confession about not having enough of this sex toy! It's all I want from a suction-based sex toy and then some. After having one orgasm with it, I just couldn't stop having another, right after.
The center of this product is a circular, open area that makes the clit to be placed in the chamber. Due to the fact that the clitoris is lifted and filled with blood by the sucking effect, everything feels like an oral sex. But, this oral sex is a precise and continual, with more vibrations that tremble around the edges.
The new model of this clit massager is very easy to be held against the skin, has an amazing angle and it's compact. More, due to the hands-free advantage, I can put it against the clit and watch something on my laptop. This toy has 11 different pulsating modes which can be controlled through the control system.
With this new model, the control system has a + and – feature that helps you to have a full control of the suction. The sensations offered by one setting are so different from the ones offered by other setting and now you can simply switch between them.
Design and materials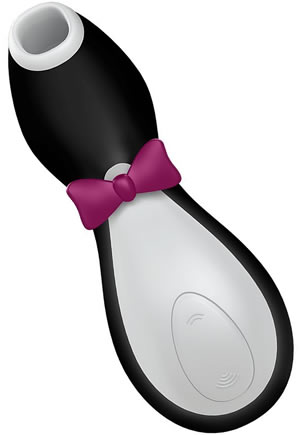 Just like its predecessor, the new model of Satisfyer Pro Penguin is made of body-safe materials only. Every part of the penguin that comes in a direct contact with your body is made of non-porous, phthalate-free and body-safe silky silicone.
The other materials from which this toy is made of, are PCB and ABS, also totally safe. Satisfyer pro penguin has a length of 4.75 inches, a width of 1.625 inches on the top, 1.375 inches at the body top and a 1.75 inches at the body base.
Also, it has a depth of 1.75 inches at the head, 1.25 inches at the tip and 1.75 inches at the body base. This toy has a rechargeable Li-Ion battery with a capacity of 450 mAh that allows you to pleasure yourself for about two hours.
After this period, you will have to charge the battery for about 4 hours, at a 5V charging voltage and a maximum charging current of 500 mA. New design looks like a little fancy penguin with a ribbon around its neck. New model has a new removable tip that can be cleaned with warm and soapy water.
Penguin is a waterproof toy, so you can take it with you under the shower or when you want to spoil yourself in the bathtub. You have to keep this toy at a storage temperature of -5C/23F – 60C/140F.
It comes with a magnetic USB rechargeable cable and with a warranty certificate. For more fun with this sex toy, use it with a water-based lubricant.
Enter offer code
"AECOUPON"
at checkout at
AdamEve.com
and get
-20% Off a Single Item.
Original Satisfyer Pro Penguin Vs. Next Generation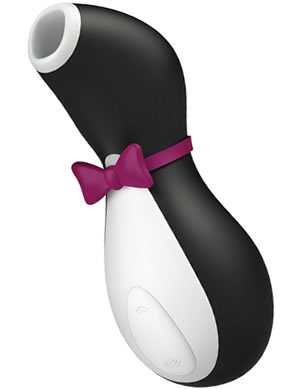 Comparing Satisfyer Pro Penguin Next Generation with the original one, I noticed many differences and improvements. First of all, a second control button was added.
With original model, when I was skipping a speed, I had to go through all the options to find the needed speed. For this, I had to take the toy away from my clit to change the speeds. Now, with the new model, I can navigate through settings with the help of the newly added button, going back and forth just as I need.
Another very important improvement is the whisper quiet mode, which makes this model so much more silent. The sound made by penguin is so soft and so discreet that you don't have to worry about being heard while you enjoy your pleasure times.
The silicone tip is another improvement brought by this new clit vibrator model. On the original model, this tip could easily slip out while using the toy and get lost in the bed or in any other place. The new model instead, has a ridge that keeps the tip from getting out of the nozzle. The silicone tip stays in place and is very well fixed.
The design of the Pro Penguin Next Generation is the most noticeable difference we see. The colors were changed and a little bow tie was added. The black and white color of the exterior silicone makes this product look like a real tiny penguin. The bow tie only makes the Satisfier Pro Penguin cute and even more attractive.
Pros
11 programs.
Whisper quiet mode.
+ and – buttons for the speed control.
Attractive new design.
Ridge for the silicone tip stability.
Cons
No storage pouch.
Not a very strong suction-based toy.