First time when I saw Tryst massager I fell in love with its design. It comes in black and purple color, in a nice black box and it just calls you to have it.
Luckily for me and my husband, Steve, it wasn't just one of those nice toys that you hold in your drawer for ages. Actually, this is one of the best joy toys we have ever tried.
What is Tryst massager?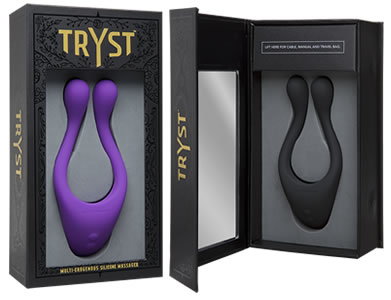 Here are some technical things. It is Y-shaped massager made of non-phthalate premium silicone and it's extremely nice to touch.
It is 5.4 inches long and flexible, purposed for multi-use.
When we read the instructions manual, we couldn't absolutely predict how much joy this toy will bring to our bedroom.
Tryst massager has 7 levels of vibration. It has a quite strong motor in each arm and one at its base. Its arms and its base can work independently and simultaneously, depending on your preference.
It is water-resistant, which I find wonderful and also hyper-allergenic. It comes with USB charging cable.
Who can use it?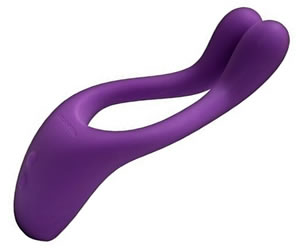 Now we come to the nicer part. Tryst massager can be used by both women and men, separately or together, during play.
It can be used for stimulation of virtually any part of the body you want: clitoris, nipples, testicles, anus… whatever you imagine.
You can use its arms or its base, or both at the same time. This toy literary has no limits for fun.
How to use it?
COUPLES: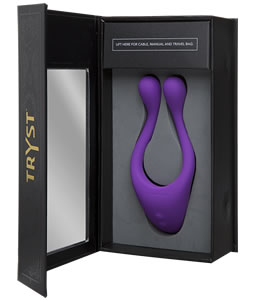 Tryst massager can be used during coitus, as a cock ring. If you turn its arms so that they stimulate woman's clitoris and its base to stimulate man's testicles, then you'll get the maximum pleasure for both partners.
But remember, arms and base can work separately, in case one of you doesn't want more stimulation.
Besides that, one of the partners can use it to stimulate virtually any erogenous zone the other partner has. Or (s)he can stimulate herself for the other partner to watch. In any case, Tryst massager will enrich your play.
MEN:
Tryst massager can be used by men as a cock ring in 2 ways: If you turn the arms up, the base will stimulate your testicles, if you turn the arms down, then the arms will do the same. Also, you can use Tryst massager to stimulate any other part of the body.
WOMEN:
Women can use Tryst massager to stimulate their G-spots if they insert both arms into their vagina. Base and arms can be used to stimulate clit, nipples and other parts of the body, depending on the preference.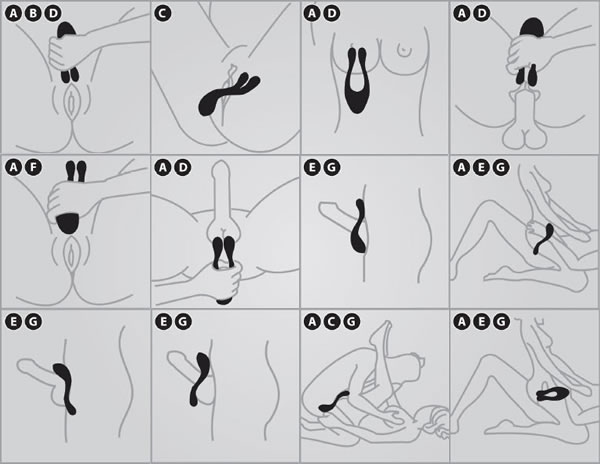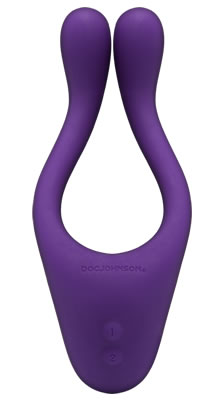 A – Wear during intimate encounters with a partner or conveniently hold for direct stimulation.
B – Vibrating arms can embrace the clitoris for a unique, mind-blowing experience.
C – Insert vibrating arms for exact g-spot stimulation. Tryst's curved arms artfully mimic a "come hither" motion to provide intense pleasure during insertion.
D – Vibrating arms can clasp, caress and stimulate nipples or any erogenous zone.
E – Tryst can be comfortably worn as a vibrating c-ring for clitoral stimulation, testicle stimulation, or operate both vibrating zones to intensify both clitoral and testicle stimulation. Functions run independently to provide customized sensations for each partner.
F – Tryst's base can be used as an ergonomic massager to stimulate intimate areas.
G – The wider base can be worn on top of the shaft for clitoral massage, or below the shaft for testicle stimulation. The semi-flexible arms can hug the testicles when worn below the shaft, or cups the clitoris when worn on top of the shaft. Both directions provide unique pleasure options.
H – Can be used solo or with a partner.
How does it feel?
Depending on how you use Tryst massager, where you use it and which levels of intensity you use, the answer to this question can be multiple, like the use of this toy.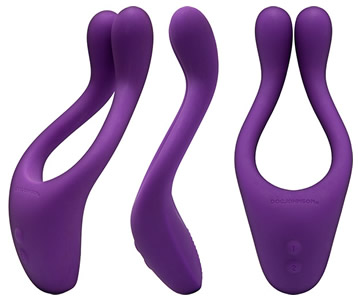 Can you feel extraordinary sensations? Definitely yes, speaking in my name and my husband's name, too.
We recently agreed that there's simply no need to have 'ordinary sex' when we can play with this handy toy and take it to a much higher level.
If he's afraid he'll cum too soon, then we just turn off the base vibration, but honestly, there's really not too soon for me, with this one.
The arms do a magnificent job at stimulating my clit so my orgasms come like 10 times faster than usual. Steve also likes to use while masturbating, and so do I, especially while taking a shower to get a quick stress release.
Also, the arms are quite flexible, so you can use one or both, which can be very handy.
Cleaning is also easy. You can clean it with compatible cleaner (Doc Johnson has a few) or you can wash it under warm water with a mild soap. The instruction manual says that one should not submerge it in the water and I find this toy too precious to even try. After you wash it, pat it dry or let it dry on air.
The full charging process takes a bit more than an hour and after that, you can use the massager for about hour and a half.
Cons
I'm not saying this often, but neither Steve nor I found any major con. It is just one of the toys that gave us so much more than we expected. But, since I'm trying to be objective here, then I must say that I'd like it to have longer usage time and I wish it could be used in a bath (no submerging, remember?).
But looking at the whole picture, this looks like desperate try to find some flaws in perfection.
Pros
It can be used for stimulating virtually any erogenous zone
Great for women, men, and couples
It can be used solo or with a partner
Great feel
7 levels of intensity for any taste, any mood, and sensitivity
Arms and base can work separately and simultaneously
Arms are flexible and you can use one or both
Captivating design
Rechargeable batteries
It can be used under shower
Conclusion
Whether you want more fun as a woman, man or a couple, I'd highly recommend you to have Tryst massager in your toy stack. It will take the play to a whole new level of satisfaction, both to you and your partner.
Just because we found some minor cons, we give 4.6 out of 5 stars to Tryst massager, which doesn't mean it won't bring you hours of fun.