Molly here, I would like to share with you my thoughts about this skin whitening cream that can be used for vaginal and anal bleaching. If you're interested in intimate skin whitening treatments or want to even out your skin tone even in more intimate areas, you should pay attention to this review of Pink privates bleaching cream.
Intimate area bleaching is something you cannot easily discuss with friends, family or coworkers. It is not something you talk about or ask about so easily. This is a sad fact we must deal with because no one wants dark and discolored private areas. That is why bleaching has become a popular cosmetic trend for both men and women.
Hopefully, you'll find this Pink privates review helpful and informative. I aim to help you decide whether this product is for you or not.
WHAT IS PINK PRIVATES?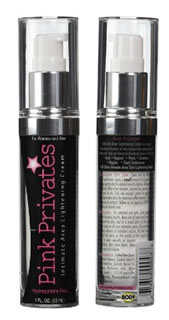 Pink Privates is a skin whitening cream that is specially formulated to lighten the color of our skin, especially the sensitive intimate areas.
Through the use of what many hail as one of the best bleaching cream, users are supposed to get discolored areas of the skin to lighten and blend with the rest of our skin's overall appearance.
Intimate and sensitive areas include the outer skin of the vagina, penis, anal area, nipples, scrotum, and underarms.
Pink Privates is proud to be using only safe and natural whitening components that will not harm the skin in the bleaching process.
IS PINK PRIVATES GOOD FOR SKIN WHITENING AND SAFE?
Pink Privates is made up of skin-safe and natural whitening ingredients. You can read the label and inspect the cream's composition.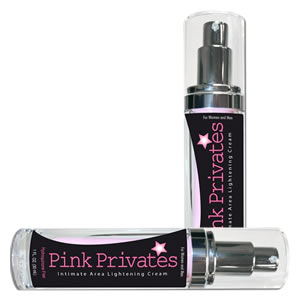 It does not contain harsh ingredients like hydroquinone, mercury or steroids. These ingredients cause discomfort and sometimes even a burning sensation. Side effects were reported when using products that contain these harsh chemicals. Even cancer has been linked to Hydroquinone and we all do not want the risk that just to have whiter looking privates.
The formula that created Pink Privates formula is paraben-free and uses the latest skin whitening and brightening ingredients.
GENERAL DESCRIPTION
Pink Privates bleach is packaged in an airtight pump bottle at 1oz. The pump makes it easier to use and lessen the chance of contamination. Personally, when l use those creams bottled in jars, I scoop the contents using my fingers. I know it is not a hygienic way to do it, but using a scoop means having to look for one that would fit the jar and it's just too much work. So I for one appreciate the fact that they used a pump bottle. Very easy to use and keep safe from contamination.
You can buy Pink Privates bleaching cream through online stores and at your local pharmacy or cosmetic stores. Very accessible and very safe.
HOW DO YOU USE PINK PRIVATES?
As a vaginal bleach cream, I suggest cleaning using a soft wet cloth to wipe your female center clean. I prefer taking a shower before application. I have a bald area down there and have it regularly waxed. It is so much better to bleach without any pubes present. So better shave or have it waxed before application to make sure nothing gets in between the cream and your skin.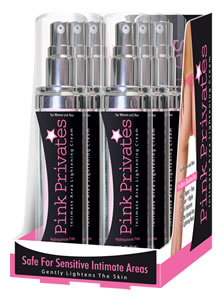 Next, dry your vag by patting it with a soft cloth or towel. Do this gently to avoid abrasions and hurting your vag.
When the area is dry, apply a small amount of cream or enough to cover all outer areas of your privates.
Let your skin absorb the cream and let it fully dry before you put your panties on. Don't get dressed right away or the cream will transfer to your underwear instead of being seeping into your skin. Do this twice a day for faster results. I prefer going at it at morning when I wake up and get ready to jog and before going to bed.
After eight weeks of application, you will see the result of the bleaching treatment.
PROS AND CONS
This Pink Privates bleaching review will discuss the pros and cons of this skin lightening cream.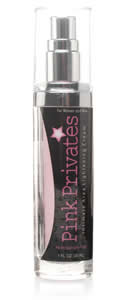 Pink Privates is supposed to be applied to the sensitive areas of our skin, so it needs to be formulated with delicate ingredients.
Aside from purified water, Pink Privates is also made of Jojoba seed oil and Apricot kernel oil. Then it has Squalane, an emollient and a skin softener. Add in Hyaluronic Acid and Laureth-7 which are moisturizers with supposed anti-aging properties. And the key ingredient – Alpha Arbutin which comes from the Bearberry plant and acts as a melanin inhibitor. It blocks melanin production
As you can see from the main ingredients, Pink Privates uses only natural and safe ingredients. That will effectively whiten the skin without harming it. This is the biggest pro for this whitening product considered one of the best bleaching creams.
The only con I noticed with this anal bleaching cream is that it is not that fast acting, but so are most anal bleaching creams. I mean, it's not that big of a bother to wait few weeks compared to paying a ridiculous amount to get bleached at a spa several times, showing my most secret area to strangers. And besides, getting fast results usually involve those harsh chemicals I mentioned earlier. Yes, they may be fast acting, but they are not guaranteed safe.
CONCLUSION
Pink Privates anal Bleaching Cream does result in lighter colored intimate areas. As long as it is applied properly and regularly, you can expect visible results in eight weeks. It is perfect for our most sensitive parts and most intimate areas because of its gentle formulation and natural ingredients.

I rate Pink Privates bleaching with 4 stars out of 5.
If you like my Pink privates review, please consider to like and share it.
Click here to get free foils with every purchase of this cream