Each Satisfyer of the three ones presented in this review is wonderful, has numerous advantages and attracts you to buy it. Still, which one is the best for you? Which one responds your needs the best? Which is the chosen one when it comes to fulfilling fantasies?
Don't worry, you don't have to find the answers by yourself. I have already had the pleasure of trying out all these three models and based on what I felt, I did my best to make a complete view about each of them.
In this article, I shall review Pro penguin, 2 and Pro 2  model. I'll compare them to themselves and more, I'll compare them with Womanizer, a vibrator about which you maybe have already read. One thing I can tell you right from the start: all the three models were very fun to use, each of them knows how to make us happy.
All 3 Satisfyer reviews were fun
As I have already written, all these three models are fun and each of them has its advantages. But, before spending your money on any of them, I think it is fair to know what you will get for that money.
It is better to buy the one that totally fits your needs than buying one and wondering if another would have been the best one for you. After reading the reviews of all three models you will decide which is the chosen one.
Satisfyer Pro 2 USB Rechargeable Clitoral Stimulator
With the Satisfyer Pro 2, I had a lot of fun under the shower where I used it without any problem due to the fact that it is waterproof, unlike the Womanizer I tried. Being waterproof also allows us to clean it very easy between uses. It is quiet and brought me delicious orgasms after perfect stimulation of my clit.
This model has a hollow silicone tip just like the Womanizer, and multiple speeds of pulsating suction that offered me some of the most wonderful orgasms I have ever experienced.
The design is an ergonomically one, this stimulator is very easy to use and hold. If Womanizer has only one button control, Satisfyer Pro 2 has two buttons and a slim handle.
The combination of vibration and gentle suction, also present at Womanizer, made me go crazy every time I used it. Since it has a magnetic charging system, this sex toy can be charged between uses without requiring a plugging in. Usually, I had to charge this Satisfyer 150 minutes after I played with it for about 30 minutes. There are LED lights that will show you that the sex toy is charging.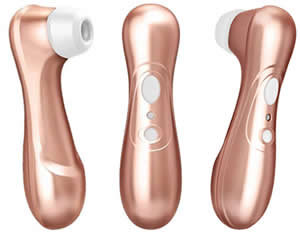 Satisfyer Pro 2 has a 6.2 inches length and a 3.5 inch circumference while the Womanizer has a 6.5 inches length and 2 inch circumference. The price of Satisfyer Pro 2 is about $100 lower than one of a Womanizer.
I shall not end this Satisfyer Pro 2 review without telling you to use a small amount of water-based lubricant around this sex toy's rim before you use it, in order to get even more pleasure.

Pros
USB rechargeable
Magnetic charging system
Waterproof
Free-phthalates and free-latex
Non-numbing stimulation
Cons
A little loud before is put in place
Available in one single color
Satisfyer Pro Penguin Clitoral Vibrator – Waterproof and Rechargeable
There is one word that describes Satisfyer Pro Penguin the best: 'Wow!' Do you think that penguins are sweet? Wait to see how sweet this penguin-shaped clitoral stimulator is! The intense sensations I experienced with this Satisfyer are hard to be described in words. They are offered by the suction tip and by the 11 different intensities, which are more than on Satisfyer Pro2.
The pressure wave vibrator's curved head is also 'guilty' for the most incredible climaxes I have ever had! Cheaper than Satisfyer Pro 2, Satisfyer Pro Penguin has a luxurious look due to the silky silicone.
If for Satisfyer Pro 2 I had to wait 150 minutes for the sex toy to charge, for Satisfyer Pro Penguin I had to wait for 3 hours to have it charged again, but after 2 hours of magnificent stimulation.
The charging is very easy due to the magnetic USB interface. This Satisfyer doesn't have the same intensity at its highest setting, like the one of the Satisfyer Pro 2, but this is a problem only if you want to use the max setting only. Satisfyer Pro Penguin has a design that makes it very easy to use and very cute same time.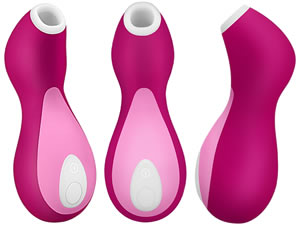 More, it has an angle that allows me to sit on my bed, turn it on, put it in place, put it against the blanket and enjoy my social network navigation while the lovely Satisfyer offers me incredible pleasure!
I recommend it for solo play as well as for those who like the compact suction toys that can be used hands-free.

Pros
Integral push-in button
Rechargeable batteries
Magnetic USB interface
11 intensities
Waterproof
Cons
Needs to be charged before use
Lower intensity at highest setting
Satisfyer 2 Clitoral Vibrator – Waterproof Touchless Stimulator
Let's just say that Satisfyer 2 brought me to the highest peaks of pleasure faster than I ever imagined! This toy is elegant, discreet and travel compatible. I took it with me in my travels and my nights in the hotel rooms were so much more interesting! Cheaper than both Satisfyer Pro 2 and Satisfyer Pro Penguin, this one offers amazing and intense sensations due to the combination of vibrations and gentle suction.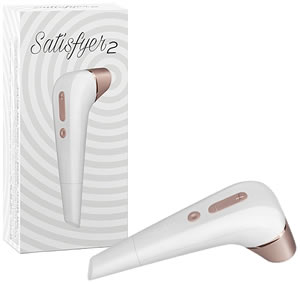 The cutting-edge pressure wave technology offered unknown and incredible feeling to my clitoral orgasms.
Satisfyer 2 has a slender body that allows us to perfectly hold it in hand, a very easy to use the control pad and 11 sensation functions.
It is made from body-safe, high-quality silicone has an ergonomic shape and it can be used with or without your partner.
Unlike Satisfyer Pro 2 and Satisfyer Pro Penguin, Satisfyer 2 is not completely waterproof. The battery is presented as being waterproof, but it seems that it is not totally resistant to water because the battery compartment got some water when I used the sex toy in the bathtub.
Just like in the case of Satisfyer Pro 2, I cannot end this Satisfyer 2 review without advising you to use a sufficient quantity of water-based lube with this sex toy.
If you choose the suction and vibration speed that fits you the best, a never felt before pleasure is guaranteed! This product's dimensions are: 7.9 x 3.5 x 2 inches and the weight is 4.2 ounces.
Pros
Touchless clitoral stimulation
Beautiful design
Travel compatible
Cutting-edge pressure wave technology
11 different intensities
Cons
Not 100% waterproof
Noticeable noisy
Conclusion
With one button or two, in different shapes and sizes, with more or less intensity. All these models are wonderful and all are made to get us to the highest peaks of pleasure. Since all these three satisfyers offered me so much fun, it is hard to say which one of them I like the most.
Still, I shall opt in the favor of Satisfyer Pro Penguin. For me, this is the best Satisfyer because it is rechargeable, compact, good looking, waterproof, silent, discreet, affordable, very easy to control and it has a perfect power.
I hope my reviews will help you choose the one that will fit you best. I wish you to have the maximum pleasure with your chosen one!