At first sight, someone could think this is a fancy thermometer. But no, the Womanizer is one of the best sex toys a woman can have. Let me elaborate it in this Womanizer review.
I've been exploring the world of sex toys for a long time, where clitoral stimulators were my main preoccupation. Luckily, I had access to many fun vibrators, massagers and other stimulators on today's market. They come in a variety of shapes, sizes and are adapted to each taste.
I have a serious collection, so Womanizer wasn't my first clit sucker, as I previously thought it is just that. But none of them actually held my interest for more than a few times. I prefer to go easy on my clit, so most of the standard clit vibrators were usually too intense for me.

OK, let star with the Womanizer review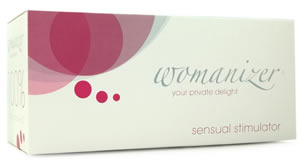 I must admit that I hesitated to write this womanizer review, as I wasn't too impressed with other clit suckers I have. Luckily, it looked fancy enough to make me want to give it a chance.
Plus, I've read some nice reviews and it sounded like it could be just the right thing for my chilling sessions. I bought it at Discreet Adult Shop and soon got the discreet package.
The packaging
The Womanizer comes with a case that looks like a slightly bigger version of eyeglasses case. The case contains the charger, the Womanizer and two silicone caps for its stimulating tip. I liked the package as I always like the toys that come with a protective case because it's much easier to keep them that way and they are handy when I travel.
What is Womanizer actually?
The Womanizer is a clit stimulator that combines gentle suction with vibration. The vibration feels more like a pulsation actually, and suction is really gentle, not like with the other clit suckers I've tried.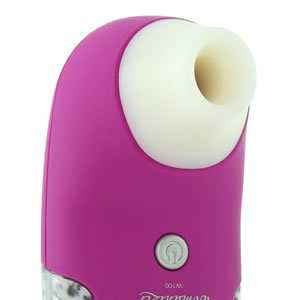 Its weight is 12.80 ounces, it is 2 inches wide and around 6.5 inches long. Made of plastic, with silicone cap at its tip, and it comes in a variety of designs for each taste. This rechargeable toy has 5 levels of intensity that can drive you mad literary for hours.
Its tip is covered with a replaceable silicone cap that you can easily clean after use.
The silicone cap has a small dent, enough for your clit to sit in it, but of course, you don't have to be limited to the clit only.
The built-in battery is excellent, as it can run for minimum 3.5 – 4 hours without charging. Charging itself is done in around an hour.
Who can use it?
I think absolutely any woman will find this a pleasurable experience, but guys can enjoy it too. It can be used at any erogenous zone actually, just make sure you go slowly and find the pace that is comfortable for you. You can use it by yourself, or for more fun, use it with your partner. Give him/her the control and lead the way.
How to use it?
Before using it on your clit, I recommend using it on your fingertip, just to get the feel of it and see how it works.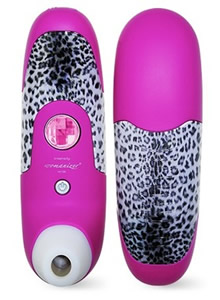 Make sure your toy is fully charged because you'll be enjoying it for some longer time.
Put the clean silicone cap at the tip of your toy
Press the Power button
Make the silicone cap sit comfortably on your clitoris
Take some time to get used to basic vibration and suction intensity
You can move the toy around your clit if you want, leave it to your imagination
When you want more stimulation, press the big jeweled button once to go up one level (two for two levels up etc.)
When you want to go back to starting intensity, press the Power button once and it will reset the intensity level
*I recommend going slowly, level by level, to build up your orgasm and resetting the intensity after you've reached your peak. It will keep you steady for the next one 🙂
How does it feel?
The suction function is slightly overcoming the vibration and that's exactly what makes Womanizer great. Imagine cunnilingus where you've been horny for like hours and then you finally get it, and your partner really knows what (s)he is doing. Well, with Womanizer you'll be orgasming a bit quicker and wilder than that. And you'll get another one before you even expect it. And another one…No seriously, orgasming under a minute just became a reality for me.
Cons
I found only one con in this womanizer review. I was almost completely satisfied with this handy orgasmic tool. My problem with Womanizer is that it can't be used under the water since it isn't waterproof.
I also think that those who prefer rougher game won't find it too interesting at the beginning, but at levels of intensity 4 and 5, they'll probably get what they want.
Pros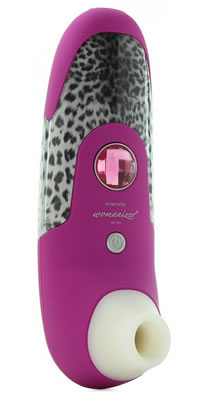 Since this became one of my favorite toys ever, I may as well make a list here:
It is handy and comes in a protective case
Rechargeable (no hassle with batteries)
Easy cleaning of the silicone cap (just wash it in warm water with a bit of soap and let it dry)
5 levels of intensity
Combines vibration + gentle suction (which I find irresistible at level 4)
Handy controls – simple and reachable in any position
Great design – you can choose from variety of them (which can't be said for every sex toy out there)
It's almost completely silent, so no one in the next room won't know that you're using it
It doesn't look like a sex toy, especially in its case
It can be used for stimulating other are (nipples, for example)
Conclusion

I give it 5/5 stars. It is hard for me to be objective in this womanizer review because I'm totally in love with this toy. Actually, it is probably the one I use the most often, whether I'm alone or with my husband.
The only con I found is that I can't use it in the shower, but oh, boy, it gives me so much joy without it. If you ask me, I'd say: Go get yourself one, NOW! And here's a hint: Try using the Womanizer with a dildo or during sex with your partner – you won't know what hit you!