The Best Prostate Massager is available for every man a couple of mouse clicks away. You can order online and get it shipped to your doorstep in an unmarked box. No hassle and no embarrassment. In order to choose which one is best for you, it is imperative that you read up on the product description and reviews of a certain massager or toy that you are interested in.
I took it upon myself to categorize my choice picks and recommendations for you our dear readers, into the levels of anal play: Beginner, Intermediate and Advanced. I reviewed the products I consider the best for all the guys out there interested in getting their own prostate massager.
BEST PROSTATE MASSAGER FOR BEGINNERS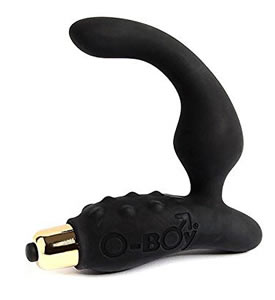 Rocks Off O Boy – This prostate stimulator is for men who are new to anal play or sexual activities that include anal penetration. The Rocks Off O-Boy was created especially for beginners or those who want to experience internal prostate massage. The best prostate vibrator for newbies looks and feels velvety-smooth, sleek and petite.
The O Boy prostate massager is made of hypoallergenic medical grade silicone, is waterproof and has a removable vibrator bullet with  7 function/settings that allows you to stimulate your perineum while simultaneously massaging your prostate. The unique shape of Rocks Off O Boy provides comfort and ease in insertion. Of course, you still use generous amounts of water-based lube, but for newbies, they won't find it hard to insert the massager in their anus.
[yellowbox]Read full Rocks Off O Boy review here![/yellowbox]
To use Rocks Off O Boy, you just insert the massager into your anus, turn on the vibrating bullet and then rock back and forth while sitting for thrilling hands-free stimulation that can result in mind-blowing orgasms.
Length: 5.5 inches, Insertable Length: 5 inches, Base diameter: 4 inches. The size is exactly for someone new to anal play!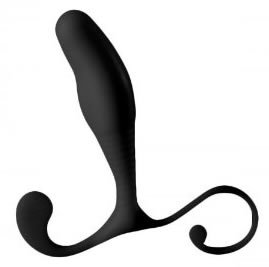 Aneros MGX – The Aneros brand offers prostate stimulators that are hands-free, internationally patented and specifically designed for prostate stimulation. Aneros MGX needs no batteries or electronically induced vibrations. With these measurements: Tip Width:3/4 inches, Mid-Ridge Width:1 inch, Insertable Length:4 inches – this could be the best prostate massager for men who are new to anal penetration.
The benefits of the best male prostate massager can be seen in most Aneros products. If used when making love to your partner, the Aneros prostate massager can induce harder, longer lasting hard-ons. If you read the Aneros MGX reviews by satisfied customers, they boast of the intense and satisfying orgasm they've achieved through the use of the Aneros MGX classic.
[yellowbox]Get your own Aneros MGX here! Use discount code "SPECIAL10OFF" to get 10% off![/yellowbox]
BEST PROSTATE MASSAGER FOR INTERMEDIATE USERS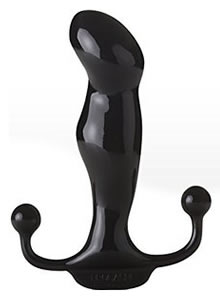 Aneros PROGASM – Measurements: Tip width– 1.25", Insertable length– 4.5", Mid-range width– 1.30", Distance from stem to perineum– 1.52". For the more experienced anal players, the Aneros Progasm is exactly what they need. The Progasm prostate massager is Aneros' largest model. yet. This product features a special "K-Tab" K after the term Kundalini which refers to the dormant spiritual energy hidden in the spine. With the K-Tab, users will experience intense sensations up and down their spine for a more pleasurable experience.
Although the product is designed for both beginners and experienced users, I included this product in the intermediate category because it is large in size and one of the largest provided by Aneros. Aneros prostate massagers please the users with hands-free features: you use your own muscle contractions to put this device to work, minus the use of your hands. Progasm is made of materials that are FDA approved.
[yellowbox]Save on this Aneros Progasm deal while it last![/yellowbox]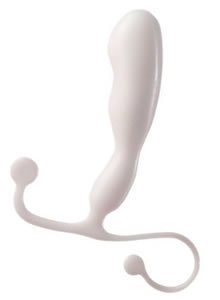 Aneros Helix – Aneros Prostate Massagers are among the top picks of men from all over the world, but this one is extra special. The Helix was designed as an answer to the feedback and comments of the Aneros users with additional design patents. They gave what the people wanted and asked for!
The Aneros Helix has a sharply angled stem and bulbous head which, if I may say so myself, is rather large. But with enough lube, it's perfect for the experienced users and the more adventurous beginners. They use the term "aggressive" in describing this prostate massage because Aneros Helix provides stimulation minus the effort and patience you would usually put in for other massagers.
[yellowbox]Save additional money by using discount code "SPECIAL10OFF" on this already good Aneros Helix deal![/yellowbox]
If your question is how to use the Aneros Helix, it's quite simple. Yes it does takes a little practice and getting used to, but it's easy to get what you want out of this male prostate massager. First off, you need plenty of lube – water-based lubricants to be exact.
You need to be relaxed and not in a hurry. Next, you might want to try laying down on one side and crunch a little. Insert the massager a third of the way in and let your rectal muscles do the rest. There is no need for you to use your hands. There is a handle, yes, but you will only need to use it when you're pulling out the massager.
Basically, to get prostate stimulation, you just need to flex your pelvic muscles and then relax and clench and relax. Keep doing the muscle clench and relax so the massager can work its wonders on your prostate gland and make you climax intensely several times.
BES PROSTATE MASSAGER FOR THE ADVANCED USERS
Nexus Revo Stealth – What I love most about the Nexus Revo line is that awesome 2-speed rotating shaft with a gentle and yet precise stimulation to the prostate. Add the 6-function prostate massager, I got to experience intense and simultaneous internal and external stimulation. It has a small and sleek looking remote control that functions up to 15 meters away to help you find the perfect speed combos. Or, you can have your partner help you decide! So it's perfect to use with a partner or on your own while masturbating.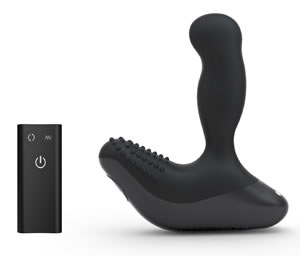 When I first used the Nexus Revo Stealth, I was unsure of how to set the vibrations and rotation so I just turned them on to the max settings. I was more than surprised when the intense stimulation began.
This is why I chose the Stealth for the Advanced Users category. The intense sensations you'll get from the toy might be overwhelming for our beginners.
The Nexus Revo Stealth prostate massager is made of skin-safe silicone and ABS plastic for the base. Shaped like a standard prostate toy, this prostate stimulator is not waterproof or submergeable. You must be careful when cleaning the toy and not get it too wet. I advisce the use of soft cloth and your usual toy cleaner.
This Nexus prostate massager comes with a USB charger for easy recharging. No need for batteries! Totally portable too – just charge the toy for four hours and you'll get 10 hours of playtime with this stimulator.
Overall, I think the Nexus Revo Stealth is one of the best vibrating prostate massagers because it's not just vibrating – it is also rotating! Fairly simple and easy to use and with the remote control, you can easily involve your partner in the fun. However, I do not recommend this for those new to the prostate massaging because they might find the intensity of the settings too much.
[yellowbox]Want to have Nexus Revo Stealth? Get it here.[/yellowbox]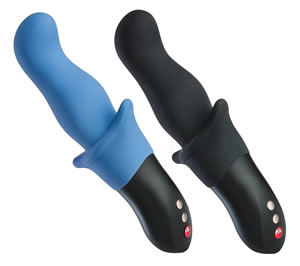 Fun Factory Stronic Zwei – And finally, we get to the last but not the least intense prostate stimulator on this review. Unlike the other prostate toys I have reviewed, described and raved about, Stronic Zwei does not vibrate – it THRUSTS.
Stronic Zwei is a new kind of sex toy more accurately called pulsator. It thrusts back and forth – simply insert the toy, turn it on and enjoy how it rocks and hammers away.
Priced at almost $150, the Fun Factory STRONIC ZWEI mimics the feel and intensity of sexual thrust movements. Pretty cool for a prostate massager, right? That's not all. This toy can be used by a woman on her vag too! It has ten thrilling thrusting rhythms or settings and you can use it on your own to masturbate or with your partner for some exciting anal play.
The penetrative part of the toy is made of hypoallergenic, medical-grade silicone with a matte finish.The toy's handle is made of ABS plastic and has three buttons. I suggest you use water-based lubricants when using this toy for your anus or your girlfriend's vag.
This toy does not need batteries because it's rechargeable and surprisingly waterproof. Overall length is a little under 9 inches with a diameter of 2 inches and an insertable length of 4.5 inches. When cleaning, you can use hot water but do not boil or toss in the dishwasher. Use water, soap or your usual toy cleaner or a 10% bleach solution before you store the toy away.
[yellowbox]Get your own over at DiscreetAdultShop.com[/yellowbox]
IN A NUTSHELL
The categories or levels mentioned here are not rules. They are more like guidelines for you to consider. You may be new to the concept of anal penetration, but if you're a rather adventurous type – you can opt for the toys considered for the advanced level.
And these prostate massagers I named one of the bests are listed here because they are among those I've personally tried and have had the best results with.
Don't miss out on all the fun you can enjoy with the best prostate stimulators for single or couple enjoyment!