This is my first-hand experience with the Rocks off Naughty Boy. I am more than happy to share it with you in this Rocks Off Naughty Boy Review. It might help you decide and choose which is best prostate massager for you.
When Rocks off Naughty Boy was delivered to my home, I was quite excited to inspect it. I am a man who believes that sex toys enhance our sex lives. They can helps us become more creative and allows us to reach pleasurable heights with or without a partner. So having my very new, one of a kind, prostate massage toy was an exciting deal. I bought the black one but is available in red and blue too.
First impression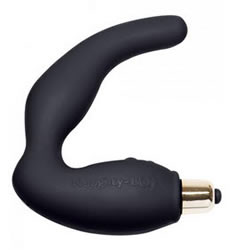 I was relieved to get the product from DicsreetAdultShop.com in an unmarked box, delivered to my mailbox without my neighbors having to see my latest purchase. Inside the box was The Rocks Off Naughty Boy, a black satin storage bag, and Rocks off a removable vibrating bullet.
Naughty Boy is similar to the Rocks Off Rude Boy only it has a less curved shape and thinner in girth – 8 Inches Long, 5 Inches Insertable, 1.6 Inch Diameter. Being a sort of a novice to having toys inserted in my backside, I chose the Naughty Boy because as Rocks Off says, the C-design makes it perfect for stimulating the prostate and the perineum at the same time. Rocks Off because you can rock back and forth while sitting down with this prostate massage toy inside. The RO-80MM Power vibrating bullet has seven speeds and rests against the perineum.
Like any good prostate massagers, Rocks Off Naughty boy is made of a Skin-Safe phthalate-free material.  It's also completely waterproof and the silicone part if firm but comfortable.
The good and the bad
So I was scared of a thick prostate massager and ordered the Rocks Off Naughty Boy because of it's smaller circumference. I mean, it was comfortable alright, but as my body starts to climax, my muscles start pushing out the toy I have inserted in my backside. So I had to sit down, sit on it to keep the prostate massage toy in place.
I used a water-based lubed to get inside, but it was a bit short to really hit my prostate internally. So clenching and relaxing, the vibrations and the rocking forward and backward motion were really needed to get me fired up. But that's just me, it might be perfectly fine for you.
I got really turned on with the vibrations and the sensation of having something inside my backside was nice. Nonetheless, even for a novice to anal toys, I found the girth slim and not that firm enough to apply the right amount of pressure.
But the vibrating bullet did send me the sensations I needed to get things going. It was a ball-sack tickly feeling that helped me achieve a hard climax. I mean, yeah I could have had a hands-free orgasm.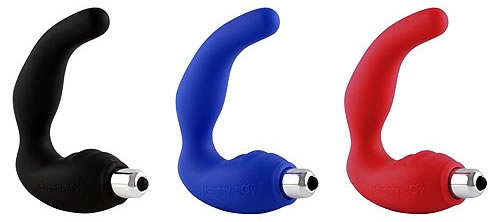 Rocks off Naughty boy verdict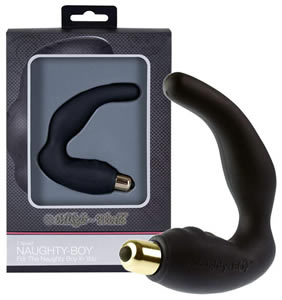 The best prostate massagers would give you the right stimulation of your prostate gland to help you achieve a mind-blowing orgasm without having to play with your schlong. With this massager, it was only moderate strong stimulation.
I guess for those who are new to prostate massagers, this could be the perfect toy to start. This is why I give it a four out of five rating. I would have appreciated more stimulation and a little bigger insertable part.
Thinking of how a partner could help me use this prostate massager for beginners, I can already come up with exciting ideas! Stimulation of the prostate gland really does work wonders for your erection. If you sit on this prostate massage toy, you can achieve an orgasm without the help of your hands.