Molly here! It's the Holiday season and if you're looking for the perfect gift for your couple friends then you've come to the right place because today's featured product is the double penetration cock ring.
It is not only partner-friendly, but a little adult toy packed with so much fun and pleasurable qualities. It's a fun and kinky gift to give your sexually adventurous couple friends.
Through this article, I will teach you how to use the double penetration cock ring properly, maximizing it's the use of the versatile sex toy for couples and give you our suggested products to check out.
Why you should check double penetration cock ring?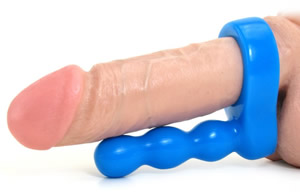 First and foremost, I recommend that a couple try this couple sex toy and experience the intense simultaneous pleasure it will provide for both of you.
When buying any item online or otherwise, you first consider how useful it will be to you, right?
Well then, this definitely ticks this box. And secondly, if you're a guy who's very into pleasing your woman, then why not buy a sex toy that you both can be stimulated from?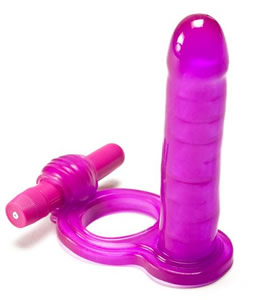 Lastly, since double penetration cock rings are often under thirty dollars, it's definitely worth checking out since it functions as several couples sex toys all in one.
It's affordable, versatile and definitely pleasurable. To be more precise, this sex toy for couples is basically a cock ring with a dildo and often with an added bonus, the rabbit ears, to stimulate the woman's clitoris.
So if you position it properly, you get a cock ring's function – make the erection bigger, harder and last longer – plus a dildo to penetrate the woman's anus and a clitoris stimulator in the form of the rabbit ears.
How to use the Double Penetration Cock Ring
The dp cock ring is available online and at your favorite sex toy store nearby. It's very easy to use.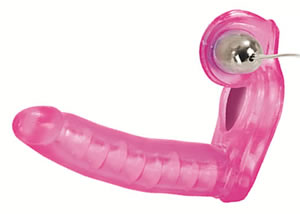 First you need lube. Yes, lube. You get some on the guy's tool to slip the ring in, tight fit if the guy's well-endowed and during intercourse, the guy penetrates the woman's vagina with his massive hardon while the dildo attached to the ring will penetrate the woman's anus – hence the term double penetration.
But since attached to the ring as well is a clit stimulator, she gets three times the action and three times the fun.
Suggested Products
Bellow you can read short reviews of two double penetration cock rings Steve and I tried lately. We tried more of them but this two were our favorite.
Frisky Double Delight Dual Penetration Vibrating Rabbit Cock Ring
Give in to your woman's double penetration fantasies without entertaining a second guy to play with the woman you want to have only for yourself.
This double penetrator penis ring with dildo and clit stimulator by the manufacturer Frisky, combines the functions of the cock ring with a powerful bullet vibrator and fun dildo.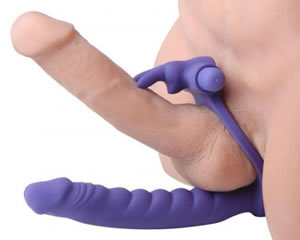 This is one of the best sex toy for couples out in the market, yes, in my opinion with its multi-functions and triple dose of fun.
This double penetration cock ring has a vibrating rabbit ring which you slip into the penis shaft down to its base or over the shaft and balls as well.
Then there's the rabbit stimulator which, if positioned properly, will stimulate the sensitive clitoris of your woman. And there's more… the ridged dildo will be inserted anally and with each thrust the guy makes with his own tool, he thrusts the dildo inside her anally at the same time.
Vibrations will add extra thrill as it travels from all the soft sensitive spots both men and women have. The double penetration ring is made of skin safe Silicone and ABS plastic. It comes in the color purple.
Frisky made a dp cock ring with a smooth matte finish that takes love making to the next level. The couples sex toy measures:
Shaft: 6.5 inches insertable length, 1.15 inches in diameter;
Ring: 1.25 inches in diameter while unstretched.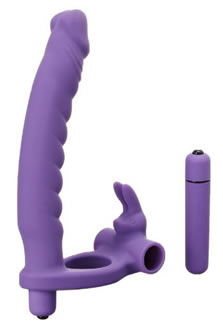 The Frisky double penetration cock ring was a delight to those who owned the double penetrator penis ring like me and Steve. I must say that it has a great material.
We loved how very smooth it was. To be honest, we were both surprised at how strong the vibrations were for a toy with just 2 double A batteries.
Steve mentioned that the size of the toy was perfect. I do have two points to discuss for its downside. Unfortunately nothing in this world is perfect. Well close, but not perfect enough.
The black rubber power button cover is loose and falls off.
The bunny ears which should work as a clitoris stimulator wasn't always right where it should be and when it was, it was a bit rough on my sensitive part.
Nasstoys Double Penetrator Penis Ring, Red
This wireless double penetration cock ring has a vibrator bullet to send pleasurable vibrations to both the guy and girl whose love making is improved significantly through the cock ring, the vibrator, the dildo, the clit stimulator.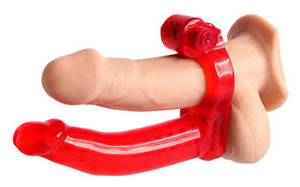 Nasstoy made a double penetration cock ring with a bendable jelly spine that is attached to ring and was gracious enough to add mini batteries with the package.
It comes in the color red and has these measurements – 3 x 2 x 2 inches Box's shipping weight is 7.2 ounces.
The Nasstoys double penetration cock ring was also a fabulous couples sex toy to play with. Steve and I had tons of fun with it.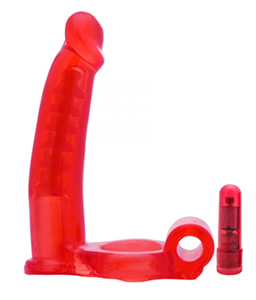 The intense little sex toy for couples did the job just fine. Since the penetrator is only about 6 inches long and a bit narrow, you are sure to hear some comments about it.
Frankly speaking though, for someone who has had a lot of experience with anal penetrators, I loved this toy's size. It doesn't hurt and all you focus on is the pleasure it brings.
For me and Steve we agree that the best part of this double penetration cock ring is that it is bendable. Actually, it bends at a nearly 90 degree angle which allows you and your partner to bend it to your will and pleasure.
Don't crank the vibrations all the way to max though, because small as it is, the vibrations on this baby are quite strong. You can opt to bend it so you only use the toy for its bullet and not the penetrator. It is just so versatile and innovative.