We are gaga over gags! You've heard of it, spider gags, ball gags, rings gags and all kinds of gags used by BDSM couples all over the world. What better way to celebrate power play at its finest than with bondage and gagging, right?
WHAT ARE SPIDER GAGS?
Today we would like to share with you our favorite spider gags. But first, let's talk about what spider gags are. The spider mouth gag is a variation of the ring gag because it has the ring, usually metal, but it has hooks that look like spider's feet. If you have seen spider gag pics then you'll know what we're talking about.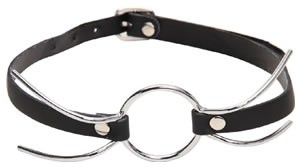 A spider gag is used to hold the mouth open. Spider gags come in different designs, but the basic is the metal ring that goes in the mouth and the curved metal pieces that hold the lips out of the way. The open mouth gag is strapped around the head with either leather or fabric harness.
What many couples love about the spider mouth gag is that it opens the mouth wide enough to allow objects, body parts, or toys to be inserted into the mouth. Also called second-generation ring gag, the ring has hooks on the sides – this part stops the wearer from flipping the ring that keeps the mouth open horizontally.
If you're playing doctor and patient with your lover or roleplaying a stern dentist, what better toy to use than these medical like spider gags? In humiliation play, spider gags are perfect because they make the wearer drool.
TAKE NOTE!
Use with care because the ring is going to be placed where it could chip your teeth. And like most mouth gags, it is not advisable to use for more than 20 minutes at a time. So if your mouth and jaw start to ache, there should be a safe word or gesture to use to tell the dominant that you need a break.
You won't be able to speak properly with no control over your mouth's movement, so better agree on something as an alternate to the safe word you are used to. Try talking about snapping your fingers once for "take it easy" or snapping your fingers 3x for a stop. You could choose to stomp your feet if you've got your hands busy or tied up.
CHOICE GAGS
If you and your partner are in need of mouth gags like the spider mouth gag, then here are our personal favorites. These products have been tried and tested by yours truly, Molly – the eternally obedient submissive. Read on and maybe our suggestions will help you achieve the perfect recreation of your deepest BDSM fantasies.
1. Fetish Fantasy Spider Gag – This open-mouth gag is perfect for doing exactly that – keeping the mouth open wide. This quality mouth gag is made of a steel ring that will keep your submissive's lips from closing. The ring keeps the mouth open for more kinds of roleplaying and kink.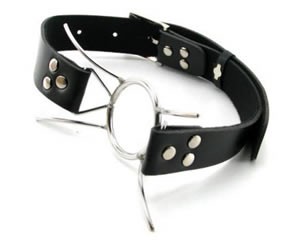 The master or dominant can insert toys, fingers or what not into the wide open mouth. If the submissive also has her or his hands bound, the feeling of helplessness is intensified.
The ring is connected to a strap that buckles in the back. The brand, Fetish Fantasy Spider Gag, is adjustable from 14 to 22 inches around the head and with the buckle, you can make sure everything is secured in its place. The materials used in making this spider gag are metal, medical grade steel, faux or synthetic leather. Comes in the color black with silver.
2. Spider Mouth Gags – this one of the few spider gags that don't look that scary. It's sexy and will create a super hot bondage scene. The O-ring is at 1.25″ inside diameter. It's not big enough to insert a male genital but your tongue will be free to move around, so do as your imagination and desires dictate.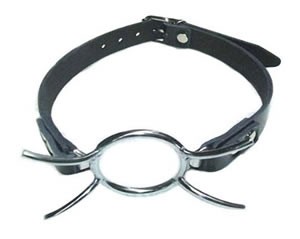 Talking is impossible, but the wearer can still scream and moan if you know what we mean. We've tried it ourselves and it is indeed effective as a punishment device, humiliation tool, and bondage toy. The Spider Mouth Gag is a bit uncomfortable but nothing beyond the bounds of BDSM. You can wear it for 20 minutes or longer, but when your jaw starts to hurt, you should have it removed.
Drooling adds to the kinky feeling and is another fetish perk. Materials used in making this product include steel for the gag, leather for the head strap or harness.
3. Fetish Fantasy Limited Edition Spider Gag – if your submissive needs to have his or her mouth open wide, use these elegant spider mouth gag to get the job done.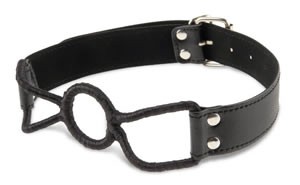 The ring gag is a sturdy steel ring with four curved metal "legs" attached to the ring. Those are the spider-legs, hence the name. The ring gag opens the mouth wide and keeps it open with the help of the hooks or legs that prevent the wearer from flipping the ring horizontally.
With your submissive's mouth open wide, you can have your imagination take over. Recreate your favorite BDSM fantasies with this Fantasy Fetish Limited Edition Spider. The ring is 1.7″ (4.3 cm) in diameter and is connected to a vinyl strap that buckles in the back to keep the gag firmly in place.
[yellowbox]If you want to see even more different spider gag models
than take a look here
.[/yellowbox]