A Penis Gag is a mouth gag that has a phallically shaped gag to put in the mouth. The gag is a dildo for the wearer to suck on while bound as in a BDSM roleplay. Dominants have their submissive wear penis gags or any other mouth gag for punishment or humiliation – all in the scope of the power play between the master and the slave.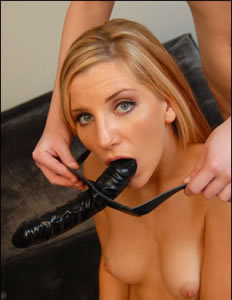 This bondage device if used to humiliate the submissive. It makes the wearer drool uncontrollably which adds to the authenticity of the roleplay scene.
If the slave says talks too much, have them suck on a phallic pacifier with straps fastened around the head to keep the gag in place. They will not be completely silent, but they won't be able to say words coherently.
The wearer can still groan and moan, the sound muffled, but will not be able to speak properly. Which is why the function of this gag is not to silence the wearer, but more of humiliation.
What are the different types of penis gag?
There are 3 basic types of penis gags and most of them have insertable penis gags that measure 2 to 3 inches long.
1. Basic penis gag
To start with the basic is a good way to get used to a new experience, right? The basic penis gag is composed of a leather harness and mouthpiece in the shape of a man's genitals. Also known as pecker gags, the mouth gag in the shape of a penis head can be made of rubber, silicone or leather.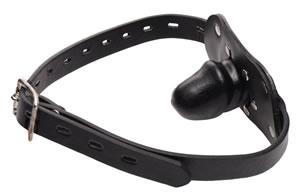 Most pecker gags have a removable mouthpiece which makes it easy for the owners to clean the toy before and after use. Simply remove the mouthpiece and wash with a toy cleaner.
The dildo gag comes in different colors and sizes. One of the best selling gags of this kind is those that are made of silicone. Silicone is perfect as a mouth gag because it is odorless and tasteless like some latex products. Plus, silicone can be boiled, bleached and dishwasher safe too.
2. Inflatable penis gag
This gag has an inflatable mouthpiece. If you're submissive is a woman with a large built or you can't find one small enough for a smaller built woman's mouth, then you can go for the inflatable penis gag. With this, the mouthpiece is easy to insert in the mouth and can be inflated up to 3 inches in diameter. This size is the basic for a captive you wish to silence. The gag is kept secure sometimes by a leather or rubber strap.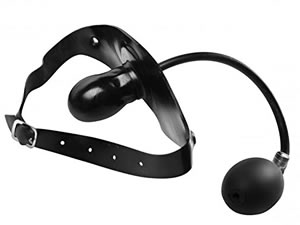 What is advantageous with this bondage devices is that since it is inflatable, you can start at any level and work your way up to a larger and larger size. Perfect for beginners and advanced captives.
Cleaning an inflatable gag is easy. Just wash with warm water with a small amount of mild antibacterial soap then since and allow to air dry. Store in a cool, dry and dark storage away from hash lights.
3. Double penis gag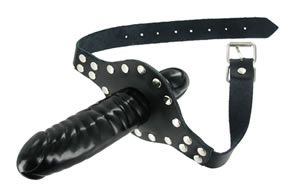 The Double penis gag is an exciting bondage toy. With this gag, you can have rough roleplaying and power struggle in the best scenarios possible. The gag has two penises; the small one on one side is for the wearer to suck on and the huge dildo on the other side is for the master/mistress.
A mistress can ride the other dildo while the captive is sucking on the smaller one at the same time. Masters/mistresses can sit on the sub's face in an exciting BDSM fashion. Double penis gags usually have removable dildos that make for easier cleaning.
Penis gags in a nutshell
Penis Gags are made for humiliating the wearer or the submissive, while the dominant watches and plays with the bound captive. The gag provides you an opportunity to recreate your deepest, darkest BDSM fantasies with your partner. They are also perfect for non-D/s relationships or couples who just happen to be extra curious and adventurous.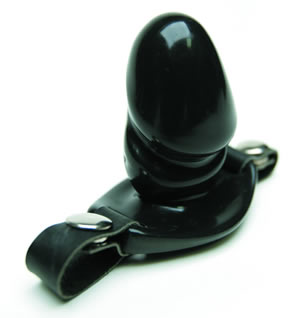 If you were to get one for yourself or for your lover, choose one that does not have any plastic-like odor, is tasteless and durable. And don't forget the safety measures you have to consider when using bondage devices, especially mouth gags. These can cause asphyxiation so better be careful.
Avoid using the gag when the wearer is suffering from a cold or a runny nose. The penis ball gag makes breathing through the mouth difficult. The wearer will rely on their nasal passage to breathe, but if it's blocked by mucus, the wearer my suffocate.
The same goes for being sick or has stomach problems. You can't risk using a penis gag when there's the possibility of vomiting. Make sure, you pay close attention to your captive when wearing a gag. If she or he uses the safe gesture you have agreed on, you can respond as fast as you can.
The penis mouth gag is one of the most exciting and most kinky adult toys you will encounter. Arousal may be very psychological, but setting up the perfect BDSM roleplay activity is very fun and very rewarding too.