Ball gags have been used by D/s couples for years, but many are still unfamiliar with it. There are different kinds of bondage gags and if you are curious to know more, we present to you Ball Gag 101, a crash course in this super kinky sex toy that will help you take your new dominant and submissive relationship to the next level.In this article, you'll learn about the different kinds of ball gags, what they're for and their kink factor.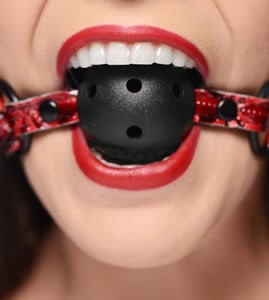 Ball gags are used primarily by BDSM couples, although couples who are adventurous even if not in a BDSM commitment may try using ball gags and other bondage devices. In this kind of relationship, there is a dominant often called master and a submissive who is sometimes called a slave.
BDSM requires a high-level trust since the submissive basically places all the power his or herself to the dominant. The master's role is to love and take care of the submissive and tell him/her what to do. The master may be male or female. He or she is to be loved, trusted, obeyed and respected.
This is where ball gags come in. In many bondage plays and other BDSM scenes, the submissive is placed in a powerless or helpless state, tied up and put in a submissive position. If the master wants the submissive to stop talking or want to humiliate them, punish them for something they've done wrong, they can make the sub wear ball gags.It is a good way to show dominance over the wearer and it is the submissive who wears the gag while the dominant observes or manhandles the wearer.
WHAT'S A BALL GAG
What's a ball gag? It is as its name suggests – a ball used to gag someone's mouth. The ball is usually made of rubber or silicone and has a strap or harness. The ball is placed in the mouth behind the teeth, with the straps going around the head to keep it in place. The ball gag harness is a head bondage device used to keep different kinds of gag in place. In this instance, the ball gag harness is used to secure the ball inside the wearer's mouth, so they will not be able to remove it or spit it out easily.When a submissive wears a ball gag, he or she cannot speak actual words, more like groans and grunts. If the wearer forces himself or herself to talk, it will cause drooling.
Ball Gags are fun sex toys, whether in a BDSM relationship or not. The wearer will have their mouth open make muffled noises and even drool which is a total turn on for those with this kind of fetish.
[yellowbox]Get more information about ball gags here![/yellowbox]
HOW TO USE A BALL GAG
Before buying a ball gag, you and your partner may need to take a little time off for research. You see there are different kinds of ball gags and their use differs as well. It is also important to know the measurements for the wearer to be comfortable without losing the essence of the gag. And moreover, the couple both should know how to use a ball gag, as in both dom and sub.
SAFEWORD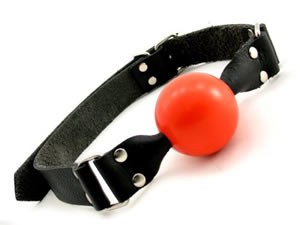 In using a ball gag, it is important to maintain a safeword or a variation of it. Since the wearer will not be able to talk, you and your partner can device a different kind of safe word to stop the action if its getting too much. Here are some suggestions: repeated noise the wearer can make, object in hand that the wearer drops or repeated movements like stomping your feet, snapping your fingers, etc.
Having agreed on a safeword or gesture will not diminish the excitement and kink level of the roleplay game. Yes, primarily, the excitement comes from the fear and humiliation the sub experiences in surrendering to the dominant, but it always better to be safe than sorry.
HOW TO
When you've found the right ball gag, have established a safeword, now is the time to actually use it. During your roleplay, the dom slides the ball gently into the wearer's wide open mouth. Don't force it in, give the wearer time to adjust to the feeling of the ball in the mouth and when the sub's alright with the ball gagged in his or her mouth, you can fasten the straps.
Take note: the ball gag should not hurt or cause the wearer's jaw to ache.
DOs and DONTs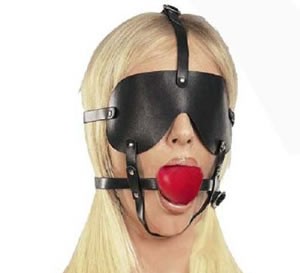 DON'T use a ball gag when the wearer has a cold or a runny nose. There should be no kind of sinus congestion because the wearer will have his or her mouth obstructed, leaving breathing primarily from the nose. The wearer may suffocate if they can't breathe through their nose due toa cold while a ball is in their mouth.
DON'T leave the ball gag wearer unattended.
DON'T play with the ball gag when the wearer has an upset stomach.
DO have the wearer sitting up or standing up, preferably with their heads pointing down or bowing when they wear the ball gag. This makes the saliva build up drip down and not back up the throat that causes more gagging and difficulty in breathing.
DO check the time. The wearer should ask for the ball to be taken out after 10 to 20 minutes at a time or when it becomes too painful. Especially for beginners, they shouldn't wear the ball gag for too long. They might end up dislocating their jaws.
DO check the material used in making the ball. Since the ball is in the wearer's mouth, choose a ball that is made of safe materials, phthalates-free.
TYPES OF BALL GAGS
Ball Gags According to Materials Used
Most ball gags are made of plastic,metal and even candy.There are silicon ball gags, breathable ball gags, double ball gags and more. Leather gags are made of leather and are also called a stuffed leather gag.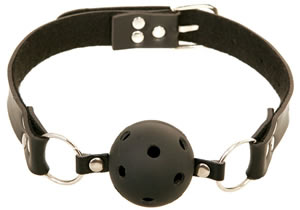 The most common materials used in making the ball for the gag are: Jelly (a rubber-like material that is soft and squishy, comes in different colors and best for beginners), Rubber or Latex, Plastic (maybe solid and hard or similar to a whiffle ball, best for drool aficionados) and Foam rubber (soft and pliable, but not durable and hard to clean.)
There are candy ball gags made out of the jawbreaker candies.
Ball Gags According to Color
Yes, the balls in these gags can be made in different pretty and bright colors. They can be colored black, green, red ball gags or pink ball gags.
Balls Gags According to Sizes
When you buy ball gags, you should make sure the size fits the wearer's mouth measurements. There is a huge ball gag for the more experienced submissive, small ball gag for the beginners and even soft ball gags that make it easy to slip inside the mouth and behind the teeth.
Of course, there are three sizes to choose from: small, medium and larger.
Small ball gags are approximately 1.5 inches in diameter. They are perfect for smaller built women.
Medium sized ball gags are the standard size.They are approximately 1.67 to 1.75 inches in diameter.
Large ball gags are for big guys and are approximately two inches in diameter.
Some manufacturers offer extra small sizes that are approximately 1.0–1.25 inches in diameter and extra large sizes ranging from 2.5–3.0 inches. These extra large ball gags do not need straps and are intense jaw-stretchers.
CLEANING BONDAGE BALL GAGS
Solid ball gags are easy to clean. Just rinse it with warm water after using a little toy cleaner and they're good to go in your storage compartments. Others require being rinsed with very hot water, or with an anti septic such as rubbing alcohol to disinfect the ball.
There are materials you cannot sterilize, so you just basically rinse them thoroughly.
CONCLUSION
Ball gags are fun, but a little tricky devices to use in BDSM roleplay or other exciting bedroom activities for the more adventurous couples out there. Kidnapper and captive are a fun game to play with these kinds of gags. Use with other bondage devices like a head harness for more kink in the kick.
With proper use, you'll easily love using them to show your humility, your respect, and love for your masters. You can go online and search for different kinds of a gag for sale. Order and get yours delivered to your doorstep in a day or two. It's that easy. But you need to make sure you take into consideration every safety precaution mentioned in this article to make the most out of your favorite ball gag.
[yellowbox]Wasn't that the simplest crash course you've ever taken on bondage devices? If this guide sparked your curiosity, then get your own ball gag over at 
DiscreetAdultShop.com
.[/yellowbox]