Male sex toys like the prostate massager can be easily bought online at your favorite online sex toy store or at your local sources! But choosing which one, what brand or design fits you can be tough. You can't try them all to arrive at the decision which one is the best. So lets this review help you decide if it's for you.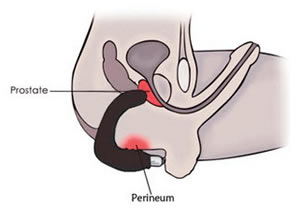 Rude Boy Prostate Massager is a sex toy designed just for men, whether straight or gay. Yes, folks, anal play for mankind is not limited to men-to-men.
Your female partner can help you have a mind-blowing orgasm with a prostate massager inserted on your backside or do it on your own, enjoying hands-free orgasms via the stimulation of your prostate glands.
Rocks off Rude boy first impression
To kick off the Rocks Off Rude Boy Review, let's talk about what it looks and feels like. The Rude Boy Prostate Vibrator is made of medical grade silicone, completely phatalates-free. It is firm but flexible and according to the pamphlet, completely waterproof.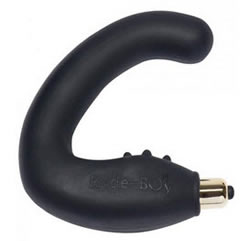 Rude Boy massager is odorless and silky to the touch. It's very flexible and easy to use. It comes with the innovative RO-80 mm removable vibrating bullet. Since it is removable, cleaning the male sex toy was going to be easy.
The Rude Boy Prostate Massager features 7 powerful functions that will help you achieve orgasms as you just lie back or sit up while rocking with what may be the best prostate massager inside of your backside.
And finally, the rocks off rude boy comes in the following measurements: Length is 10.5 inches overall, Insertable Length is 6.25 inches, Circumference is at 3.5 inches (kind of girthy if you ask me, but perfect for the more seasoned anal players.) It also comes with 1 x 1.5V N battery.
The Good
When I finally had the Rocks off Rude boy delivered at home, I decided to use it alone first and get used to it. I can play with my prostate gland and get orgasms that can blow my mind hands-free!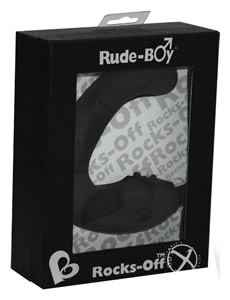 I made sure Molly was out so I could try it on my own first, before letting her play with it and me. This isn't the first time I've had a little anal fun, but the massager's girth was quite big. I would say that's even too big for a total beginner. But it's nothing a lot of lube and relaxing can't help.
As soon as I got it in place, my cheeks instinctively clenched it inside. With the knobby part pushing into my perineum, I felt instantly relaxed. And when I finally turned the vibrator on, I clenched it tight and then loosened and so on, letting the vibrations stimulate my g-spot. I found that the best position is sitting down and even rocking with the Rude Boy Prostate Massager vibrating my insides delightfully.
Rude Boy prostate vibrator has 7 different speeds and quite strong at full speed. Even though vibrations are strong, vibrator itself is quite silent.
The Bad
Well, the first thing I'd say is that it is too thick for a novice. It might be a perfect fit for more advanced users, but not first time users.
The Kink

Using the Rude Boy Prostate Massager with your bedroom partner is kinky awesome. I give it a 4 out of 5-star rating. I mean, I couldn't get off completely on my own with the male prostate massager, but it was phenomenal! Overall, appearance, function and effectivity, it is a "should-try" and "must-have" item.
Get Rocks off Rude boy if you're not scared of its size or it's vibrating function – on your own or with the love of your life.