Rocks Off O Boy was created with the first timers and even for the experienced P-spot enthusiasts in mind. It's about catering to both the novice and the pros. I was the former,  novice, not really used to having things stuffed inside my anal.
After inspecting the O Boy, I went online reading more about the best prostate massagers and prostate massage for beginners. Apparently, Rocks Off O Boy prostate massager was created for the newbies like me. Prostate stimulation and perineum stimulation at the same time! I mean, that sounds awesome. So I decided to give it a try and write Rocks Off O boy review while I'm at it.
O boy's first impression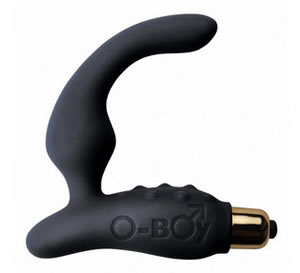 The O Boy was uniquely shaped, sleek to the touch and looked like a real quality product. The vibe bullet was removable and could be replaced with a stronger vibe, but with the rocks off bullet vibe already at 7 speeds of thunderous vibration, I wasn't thinking of replacing it with anything else.
Rocks Off O Boy Prostate Massager was 1.14 inches wide, with an insertable length of 3.74 inches. It wasn't that scary compared to the Rocks Off Rude Boy which looked huge! Made of Silicone, O Boy looked like a curved finger that I lubed up to insert in my ass.
The good and the bad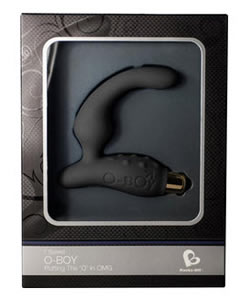 O-Boy is a beginner prostate massager that started me off with anal play. I mean, I had to relax and use a lot of lube to get the O Boy inside. I watched instructional videos to make sure I was doing things right and after a couple of slips, I finally had the Rocks Off O-Boy in place. The velvet-smooth texture helped in getting it in and since it was sleek and petite, I felt relaxed with it inside.
When I finally had the courage to turn the vibrations on, I was surprised. Man, I had no idea perineum stimulation felt this good! So I followed the instructions and sat down, rocking back and forth for the p-spot stimulation. Now I know why it's called O Boy. So I did as the videos told me to do, clenched my ass muscles and relaxed and rocked forward and backward. Sure I was turned on, but climaxing didn't seem to come anytime soon.
The verdict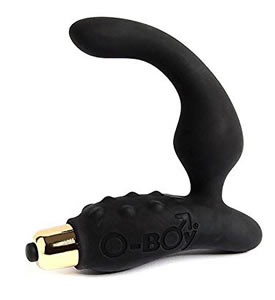 The best prostate massagers are supposed to give you that hands-free stimulation and orgasms to blow your mind away. I only got the first part going on. Even for an anal-play novice, I found the prostate massager for beginners rather tame. Yes, it did get things heated up and ready to party, but the party was just not coming without using my hands.
I give it a  3.5 rating out of 5 because anything that would help with a massive erection is a good thing and it was fun and it did feel good inside. Plus the vibrations were amazing! It's a-must-try for a man out there, straight or otherwise, anal play is fun with a prostate massager like Rocks Off O Boy.