Ball gags are bondage devices used by dom and sub couples in their sexual roleplays. In this article, you will get to know the iconic red ball gag some more. If you're interested in getting a ball gag for your BDSM fantasies, brace yourself and read on. This bondage item is made up of a ball shoved into the submissive or captive's mouth with a rope or harness that is tied around the head to keep the ball in place. It is effective at muffling yells and inhibits speech. Well, noises can still be made, but unintelligible sounds.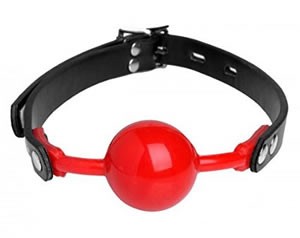 The idea behind this toy is to help the dominant display power over the helpless bound submissive, who cannot talk or tell the dom what s/he desires because of a huge ball gag in his or her mouth. The power play between master and slave could not be clearer when the slave or submissive is gagged.
RED BALL GAG
The best ball gags come in different colors like: black, white, pink and the most popular – red. Ever seen the cult favorite movie Pulp Fiction? Starred by Hollywood A-listers, the movie features a scene where Butch (Bruce Willis) and Marsellus (Vhing Rames) awaken in a pawnshop basement. They were tied to chairs and had on red ball gag to stop them from screaming for help. The movie featured the stereotype BDSM concepts, complete with a leather-clad servant.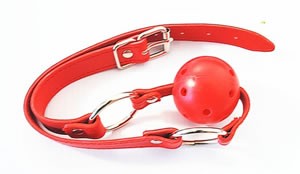 Red is the go-to color for ball gags. Many choose cherry red or bright red when it comes to mouth gags. Thanks to the movie "50 Shades of Grey," many are interested or have renewed interest in BDSM and bondage itself.
It brought to the masses and even to the traditional types of folks who are not that knowledgeable with this kind of kink – the excitement that can be found in bondage and sexual powerplay.
[yellowbox]If you like red mouth gags, you should check this great selection of
all kind of red mouth gags
.[/yellowbox]
CHOOSE RED BALL GAGS
So along with other bondage devices, the ball gag and the ball gag harness have become in-demand. And RED is the color of choice. There are different kinds of red ball gags but I'd like to name a few to suggest and talk about them since they are one of the most sought after red ball gags in the market.
1. The Silicone Red Ball Gag – this kind of mouth gag is made of a silicone ball designed to be comfortable for the wearer, but enough to keep them silent.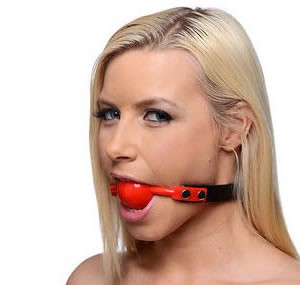 Hush Comfort Silicone Red Ball Gag offers the comfort of a well-thought of gag without forgetting about function. It has corner straps that help avoid chafing the wearers get with most ball gags.
You can adjustable strap to have it fit snugly around the head and to keep the ball in place. The locking buckle is a bonus for dominants who want control over their submissive. You can add a little padlock for a more kinky roleplay.
What I love about this red ball gag is that it is designed from phthalate-free silicone. The silicone ball gag has a diameter of 1.65 inches, a standard size both beginners and seasoned submissives can use. The balls are silicone, the buckle is metal and the straps are PU leather.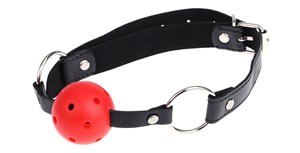 2. The Breathable Red Ball Gag – the breathable ball gag is a good choice for those new to gagging. But it's a bit difficult to clean because the saliva of the wearer seeps into it.
One product I like though is the breathable ball gag with a red ball and a leather collar or harness. It has an adjustable strap or belt made of faux but durable leather. The standard sized ball, in this case, is one you can breathe through.
3. Red Beginner Ball Gags – There are ball gags specific for beginners. And if you're hot in the search for one, I would like to suggest the Beginner Red Ball Gag by Tantus. The shape of the ball gag is not a sphere, instead, it looks like a baby's pacifier.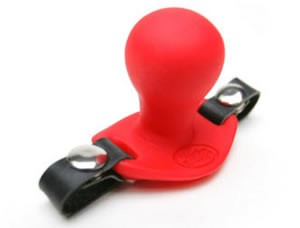 Tantus made the perfectly shaped gag with 100% Ultra-Premium silicone, completely tasteless and odorless. The red beginner ball gag is easy to insert into the mouth and has comfortable and adjustable leather straps with velcro closures for maximum adjustability.
Hypoallergenic, Hygienic, Boilable, Bleachable and Dishwasher Safe – this ball gag is very easy to clean. The gag is standard size, 1.6″ and 2″ long.
What about you? Do you prefer red ball gag or any other gag? Leave your answer in the comment area.
[yellowbox]If you like red mouth gags, you should check this great selection of
all kind of red mouth gags
.[/yellowbox]