Steve here; Molly's taking the back seat on this one, but she knows how to handle a prostate massager like a pro. In this article, we'll talk about this hot male sex toy used to stimulate the prostate which helps a man achieve orgasms. We'll talk about what brands offer the best as far as quality and effectivity is concerned. We'll also discuss the do's and don'ts with this sex toy and how you can use it for sensual stimulation and mind blowing orgasms!
What is prostate gland?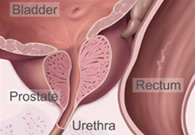 Before we start discussing the massager, I'd like to give a brief explanation of what the prostate is. Let me explain for those of you unfamiliar with the prostate. The prostate is a small walnut-shaped gland located below the bladder. Our prostate gland produces an alkaline fluid that makes up more than half of the volume of semen when we ejaculate. Some guys find it hard to find their prostate, while some find it easily.
To find your prostate, try using a bit of lube on your finger and insert into your anus, reach 3 inches into your anal cavity. Then bend your finger into a 'come hither' like position, pointing to your tummy. You should feel a small walnut-like gland, that is your prostate.
How is the Prostate Massage done?
A Prostate Massage can be medical, to help check for cancer in the gland or can be purely sensual and erotic. The latter kind of massage has been gaining popularity among men, both straight and gay. The reason for an erotic prostate massage is to achieve orgasm because as most call it, this gland is the male g-spot. An internal prostate massage can stimulate erection, even improve it as far size and strength is concerned and helps men with an orgasm.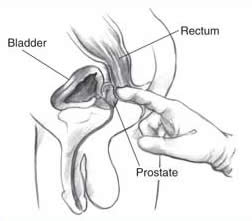 Digital Rectal Examinations or DRE is the medical kind of prostate massage given to men by urologists. In this massage, the urologist mainly looks for nodules of prostate cancer. This should be a routine checkup, in order to for men for early prevention and treatment. Kinda scary, right? Alright, let's go back to the erotic massage.
I have tried various prostate massagers myself, both on my own and with a partner. It makes for a great foreplay activity. Guys can massage their prostate on their own using the best prostate massagers during solo masturbation or you can try it with your partner as part of bedroom games, if you know what I mean. Using your fingers or any anal sex toy – like a dildo or a butt plug, you can reach into your anal cavity and sensually play with your prostate without the toy.
What is a Prostate Massager?
Sex toys that are made to massage the prostate can be bought online at your favorite online sex toy store or at your local adult toy store. They come in all sorts of shapes and sizes with a standard design: it has a curved shaft with a tapered tip for pin-pointing the prostate and stimulate it. Many massagers have a vibration function for more stimulation during the massage, while some toys are basically like plugs and dildos where you manually manipulat it for stimulation. So if you think about it, a prostate massager works as a prostate stimulator, dildo and vibrator (should you chose brands which includes the bullet vibrator for added stimulation.)
How do you choose a Prostate Massager?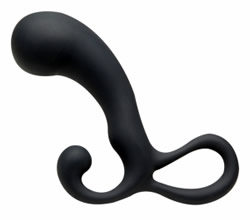 Before I go off telling you the massagers I prefer, I would like to acknowledge the fact that whatever massager you use, should be the one you prefer.
Some go for vibrating prostate massagers, while others stick to the penetrative toy.
From beginners to the more advanced, depending on the size or girth of the toy, you can choose one that will fit your anal play needs.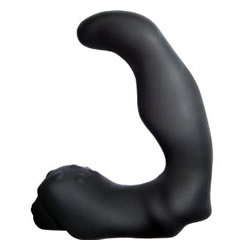 First off, in choosing prostate toys, you should first decide on the STYLE you want and need. Do you want a vibrating massager or a standard one? Next, you choose the SIZE that would give you pleasure and comfort at the same time. Choose of course the smaller prostate stimulators for beginners and larger prostate massagers for the more seasoned anal players. Thirdly, choose a MATERIAL your skin is comfortable with.
Materials used in male prostate toys vary from silicone, ABS plastic, stainless steel, glass, etc. And lastly, in choosing a prostate massager, you should know how much you can or are willing to spend on this toy. The budget you allocate for it usually doesn't determine what kind of massager fits you best.
[yellowbox]If you want to check a huge selection of prostate massagers, you can
find them here
![/yellowbox]
How do you use a Prostate Stimulator?
The ways you can use a prostate massager will vary depending on what kind it is. Vibrating or Standard, the design, and features will determine how it is supposed to be used. As for how I actually use my prostate massager, I usually use it lying down on my side, with my knees pulled towards my stomach and chest with the massager inside my backside – that is if I use it alone. When with Molly it's a different matter.
But of course, my style might not be suitable for you. So when you get a massager, experiment with different positions to figure out what works for you best and which position allows the prostate toys to actually reach your gland.
What's the best prostate massager?
I would like to share with you the best prostate massagers I've tried personally. These bad boys have helped me climax on my own and with Molly participating in the action. Now there are different kinds of Prostate Stimulators. I'll name my top picks and how you are supposed to use them to get the desired result – earth-shattering climaxes.
Rocks Off Rude Boy
Rocks Off Rude Boy is one of my favorites because of it's size and a removable bullet vibrator. I am experienced with Anal Play and own a couple of anal toys. Rude Boy is big and I wouldn't recommend it for beginners unless they are willing to experiment with its girth through lube, lube and more lube.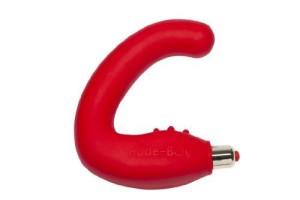 The Rude Boy vibrating prostate massager is made of medical grade silicone, completely phthalates-free. It comes with a removable vibrating bullet with 7 powerful functions. 10.5 inches overall length, 6.25 inches insertable and 3.5 inches circumference.
Like I said, it is kind of big for a guy who's new to anal play, but perfect, oh so perfect in size for guys like me. Plus, with the size like this, it's easy to insert with water-based lube and will not slip out easily while doing an erotic prostate massage.
[yellowbox]Check out this detailed Rocks Off Rude Boy review![/yellowbox]
Now the interesting part about Rude Boy and the brand Rocks Off is how it is used. The Rude-Boy prostate massager features dual action and stimulation to both the prostate and perineum. Using a water-based lubricant, you simply position the vibrator bullet behind the scrotum with the opposite end inserted into your anus and resting against your prostate.
To get maximum stimulation I would sit up or lie back and rock against Rude-Boy prostate massager. Clenching and relaxing the anal muscles as well will provide even more stimulation and hands-free at that. I especially appreciate the strong and silent vibrations and how it is waterproof and submersible. You can actually use the Rocks off Rude Boy while in the tub or shower.
Rocks Off Naughty Boy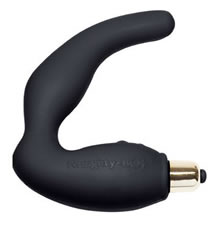 Similar to the Rocks Off Rude Boy only it has a less curved shape and has a thinner in girth.
Measurements are: 8 Inches in length, 5 Inches insertable and 1.6 Inch diameter.
The C-design is perfect for that internal prostate stimulation and with the vibrations stimulating both the prostate and the perineum, it will drive you wild and will give you a massive hard on to impress your partner if you're using the massager in kinky bedroom play, not just for masturbation.
[yellowbox]Don't miss out on this Naughty boy review![/yellowbox]
The Rocks Off Naughty boy prostate massager is made of silicone, phthalate free and completely waterproof.
Nexus Prostate Massagers
The brand is considered among the leaders in prostate massage toys and rightfully so with their wide selection of different prostate massagers. Their quality anal products are designed specifically for erotic prostate massages from beginner to the more experienced anal players. Their best selling items include the Nexus Revo Stealth, Nexus Glide, Nexus Neo, Nexus Excel.

My personal favorite, the Nexus Revo Intense is exactly my kind of prostate massager. With its intense and precision stimulation to the prostate, a design that locks into the masculine form and simultaneous prostate and perineum stimulation – it is definitely going to deliver its promise of mind-blowing orgasms.
With this Nexus prostate massager, I can choose from 2 shaft rotation speeds and 3 vibration settings that would at the same time that deliver stimulation to the prostate and perineum. Most Nexus prostate massagers are rechargeable. You get a USB charger that allows you to enjoy 10 hours of play for only four hours of charge time. However, unlike the Rocks Off products, Nexus massagers are only water-resistant, meaning it wouldn't hurt it if gets splashed with liquid, but it is not waterproof and submergeable.
Get Your Own Prostate Stimulator
A prostate massage is a good way to maintain the health of your prostate gland. It is also an awesome way for you to spice up your masturbation and bedroom activities with your partner. If you're looking for a prostate toy to enjoy orgasms at its finest and erections that will stay hard and massive, there are plenty of them available online.
But it is important that you get the best prostate massager there is to get the results you desire. Choose from different kinds of prostate massagers and pick one that will suit you the most. My advice is to go for vibrating prostate massagers like the Rocks Off Rude Boy or Naughty Boy prostate massager or the Nexus prostate massagers. For those who prefer to leave out the vibration function, there is the standard dildo-type like the glass prostate massager.
Choosing the prostate massage device that's right for you mostly depends on preference and experience. But if you're new to anal play, then choose the one that is small, but sizeable enough to provide stimulation. And don't be disappointed when you don't climax at the first try. Just stay relaxed and as you get used to the sensations, you can then start to work your way to different positions and clench-relaxing your muscles to get more stimulation and sensations as you massage your prostate.
If you have more questions about prostate massagers and prostate massage devices, don't hesitate to contact me or Molly.
[yellowbox]Fired about prostate massagers? Choose your own and save 10% on all
prostate massagers with discount code "GETOFF10"
[/yellowbox]