Vibrating Prostate Massagers are taking the adult toy industry by storm. These male sex toys are gaining popularity as anal play is becoming more and more acceptable for straight men. I am a straight man who enjoys a good anal play on my own or with my partner. It spices up the regular and mundane bedroom activities we have with our lovers and helps us achieve toe-curling orgasms.
So have you got your own massager? If not, read up and take a pick among our best five vibrating prostate massagers available in the market today.
What is a vibrating prostate massager?
The prostate gland is often called the male equivalent of a woman's G-spot. External prostate stimulation can be done through pressure against the perineum and internally by inserting a massager inside the anus. Internal or anal stimulation is proven to provide a more direct and intense climax.
Vibrating Prostate Massagers allows the user to stimulate both externally and intern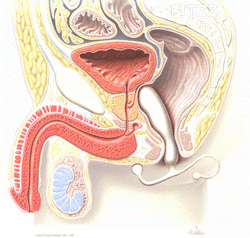 ally. Regular prostate massages allow the prostate to flush out any stagnant prostate fluid which can cause swelling of the prostate. It helps avoid surgery and prosthesis and even lessens the risks of hemorrhoids and anal fissures.
This male sex toy is intended to stimulate the prostate gland with a vibrating function that will also stimulate the perineum or the area in between the scrotum and the anus. The vibrations will also reach the prostate gland and most come with different vibration settings.
These toys are hot off the market because they are multi-functional. They can be used as a dildo, a prostate massager, and a vibrator. It's an amazing male sex toy that has health benefits because regular massaging of the prostate gland reduces the risk of it developing cancer cells.
Top five vibrating massagers reviewed
Aneros Vice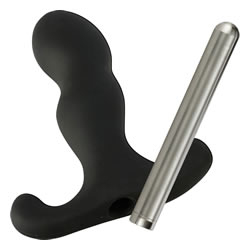 This massager is one of the most expensive models offered by Aneros. Measurements: Tip width– 1.25", Insertable length– 4", Mid-range width– 1.25", Distance from stem to perineum– 1.5".
There are plenty of information about the product online that will help you understand the product and figure out of it is for you. Before making any purchase, it is imperative that you know if it is for beginners or for the intermediate users. This will allow you to get the product that best suits your needs.
Aneros Vice Review
The Vice allows you to enjoy the massager and the vibrating function at the same time. The best part about the Aneros Vice is that it comes with multi-patterned vibration settings and is anatomically designed to fit your body. The vibrator is incredibly quiet too; it can discreetly provide stimulation anytime, anywhere.
The remarkable design is very versatile. You can remove the vibrator if you prefer to enjoy the Vice as a traditional massager. This way, you can customize its features to suit you and what you want or what you're in the mood for.
The materials used are FDA-approved. Made of medical grade silicone, the Aneros vice prostate massager runs on a single AA battery.
The only downside to this massager is that it is pretty expensive at almost 140USD. But if you have the budget for it and want that climax enhancing prostate massager, go for the Aneros Vice.
[yellowbox]
Check out all the great reviews
this prostate massager got over here.[/yellowbox]
Renegade 2 Prostate Massager
This prostate massager is a sizeable product. Renegade Vibrating Massager is designed to reach in deep for that pleasurable anal stimulation. The Renegade 2 is 5 inches tall and 4 inches in girth. Made of platinum grade silicone, phthalates-free, the massager is smooth and odorless, easy to clean and safe to use.
Renegade Prostate Massager Review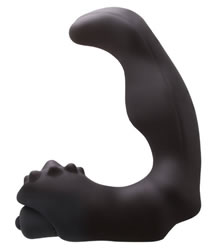 This non-porous vibrating prostate massager by NS Novelties is waterproof. You can use it in the tub, steam room or anywhere you want to get things hot. The moderate vibrations can be felt from the tip of the toy down to the base.
The only problem for this massager is that it uses LR44-3 watch batteries which do not pack in the power-time. It may run out of power before you've had enough climaxes to suit your desires. Renegade 2 is shaped perfectly to fit your body and the compromise was the battery that would fit the design and shape.
But on average at $38, the Renegade 2 Prostate Massager is a steal! The price is way too low for its features and results.
[yellowbox]If you want to find out more about Renegade 2,
click here for more technical details.
[/yellowbox]
Rocks Off Rude Boy
The Rude Boy massager is actually one of my favorites. This big, bad boy is more for the intermediate anal players. The girth may be too much for the newbie anal players unless they're generous with lube.
Rocks Off Rude Boy is completely submergible, waterproof, and flexible but firm. Overall length is 10.5 inches, insertable length at 6.25 inches, with a circumference of 3.5 inches.
Rocks Off Rude Boy Review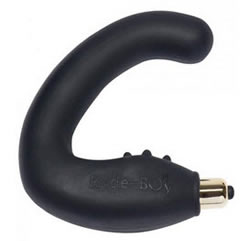 From the people who brought us the award-winning Rocks Chick comes this fun dual action male sex toy.
The Rude Boy massager is intended for prostate stimulation, hands-free orgasms, and perineum stimulating vibrations.
Made using medical grade silicone, phthalates-free, the massager is odorless, very flexible, soft and silky to the touch.
Since it is waterproof, you can enjoy a myriad of opportunities to use it like when enjoying a warm bath. It's 7 vibration settings is perfect for you to adjust the intensity of vibrations and since it's Rocks Off, you can enjoy prostate stimulation by sitting down on the massager and rocking to and fro. Absolutely fun and gives toe-curling orgasms while keeping your prostate healthy.
[yellowbox]Don't miss out on this detailed Rocks Off Rude Boy Review![/yellowbox]
Rocks Off Naughty Boy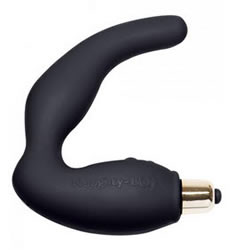 The Rocks Off Naughty Boy is another vibrating prostate massager that is a beginner's version of the famous Rude Boy.
The sleek and cheeky design of the naughty boy is perfect for anal play beginners, but a fit for prostate stimulation. Made of platinum body safe silicone, metallic plated ABS, the Rocks Off Naughty Boy comes with an RO-80MM Power vibrating bullet with seven speeds that you can choose from.
Like most Rocks Off toys, the design is what sets it apart from other massagers. Although this model is based on the Rude Boy, or so it seems, it less curved and has a thinner circumference.
The good thing about this prostate massager is that it has dual action: vibration for external p-spot stimulation through the perineum and internal prostate massage. The naught boy prostate massagers offer the same features as the rude boy, only more suitable for those new to anal play. If you want your man to get used to anal play, if that is your kink, help him get started with the Naughty Boy prostate massager.
[yellowbox]Read full Rocks Off Naughty boy review.[/yellowbox]
Nexus Revo 2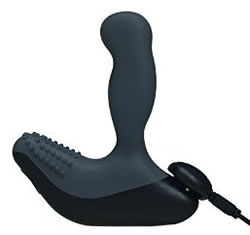 Another one of my favorites, this cool vibrating prostate toy features a 2-speed rotating shaft, something not most prostate massagers offer. The rotating shaft provides an erotic prostate massage enjoyed with a five-speed vibration to the perineum.
The Nexus Revo stands out from the other massagers because it is rechargeable. It comes with a universal USB cable that allows you to enjoy 10 hours of play with every 4 hours of charge. You can charge it using your PC or Mac.
The REVO 2 silky smooth thanks to the medical grade silicone it is made of. Do not use silicone lubricants with this prostate massager and since it's only water resistant, you cannot submerge the Nexus Revo underwater.
[yellowbox]If you are looking for a great deal on Revo 2, use discount code "SPECIAL10OFF" at
DiscreetAdultShop.com
[/yellowbox]
Conclusion
A good prostate massage will keep your gland healthy and provide you with several intense orgasms. With the use of the best vibrating prostate massager, you and your partner can enjoy an exciting bedroom play using it as a dildo, a vibrator, and a prostate massager. You can use it on your own, as a masturbation toy.
Depending on your budget and your level of experience with anal play, you can get your own vibrating prostate massager online or at your local adult toy store. It is for every man who wants to experience toe-curling climaxes, not just one, but as much as he can handle! Read the instructions before use and get your favorite lube ready for a hot orgasmic moment with your prostate massager.
[yellowbox]To find a wide selection of vibrating prostate massagers
visit amazon
. Yes, you heard me. They have some of the biggest and cheaper deals.[/yellowbox]