It doesn't matter if you are a woman or a man, you might need a 10-inch dildo to satisfy our fantasies and desires.
As a woman who has an active sexual life, I really love pleasuring myself with such a dildo, but I also know that finding the best 10-inch dildo is not exactly an easy thing. This is why, in this article, I will present and describe you my favorite 10-inch dildos.
1. Down & Dirty 10-inch black dildo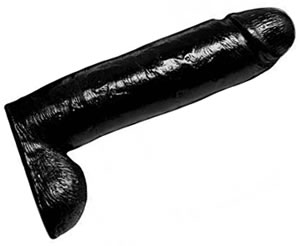 I love this 10-inch dildo because it perfectly fills me and it totally satisfies my fantasy of being penetrated by a big black cock.
It has a 2.33-inch width, 1.90 lbs as weight and a 9.00 inches insertable length.
This sturdy big dildo is made in the USA, from non-toxic materials – PVC has a flat base and a phallic shape and it can be used in water because it is waterproof.
It is also available in the white (skin color) version.
2. Adam's 10-Inch Dildo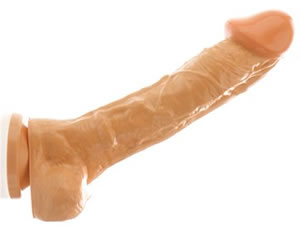 This 10-inch dildo is my favorites because it's so realistic! Its shaped and rounded head knows how to make my G-Spot bring tremendous pleasure in my body.
The raised veins massage me inside with each move that I make. It can be grabbed by the realistic balls or by its suction cup base before sticking it deep inside.
This PVC dildo has a 1.75" width and it looks exactly like the real thing and this is why is ideal to be used when playing with your partner and when you want to have fun by yourself.
3. Annihilating Alexander 10-Inch Realistic Dildo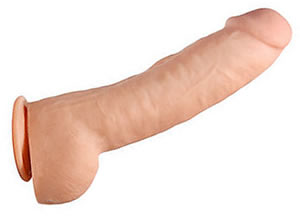 This is one huge dildo that offers me the firmness that I need for a really strong ride.
Its girth, huge length and 2.5" diameter is the ideal combination for the moments when I want to pleasure myself with a huge dildo.
Alexander is made of TPE, has a very realistic feel and look, to which the pink head and the lined veins bring an important contribution.
The material is pliable and I love the thing that I can squeeze its huge balls! I can take it with me under shower since it is waterproof.
4. Big Dick Ben 10-Inch Realistic Dildo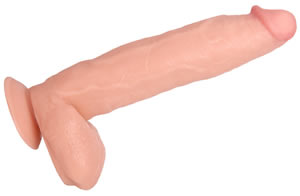 This one is actually 12" length dildo, of which 10 are totally insertable, offers me all the stimulation that I need.
The realistic cock and balls make me feel like riding the real thing and the 2.35" diameter makes my love box to totally love it!
I love riding it hands-free, due to the suction cup base that allows me to put the dildo on any flat surface.
I use this 10-inch dildo when I play around with my partner and I can pound him with this TPR dildo due to its strap-on harness compatible.
5. Enormous Evan 10-Inch Dildo with Suction Cup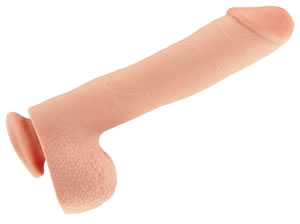 I love this 10-inch dildo for its texture that offers me a very good friction and for its slippery surface that makes the dildo to slide inside me just fine, even if I am out of lube.
The length of the dildo provides me a long stimulation and the gratification is simply huge, every time I use it.
The dildo has realistic veins, balls and cock head that make me feel like using the real thing when I ride it. I can enjoy Evan in any position I want due to its pliable material.
6. Doc Johnson Crystal Jellies Purple 10-Inch Dong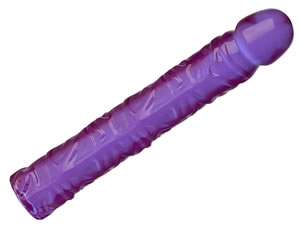 I really love how this 10-inch dildo feels inside me due to its material that is softer than the traditional PVC. I can slide it in and out vigorously without feeling any abrasiveness.
It is the right sex toy to use when I want a deep and full penetration. The textured veins and the 1.7-inch width also contribute to the amazing experiences that I have by using it.
This sex toy adjusts to my body's contour, allowing me to use it deep inside. It has a 5.34 inches girth and can be used by beginners and by advanced players.
7. Tracy's Dog 10-Inch Lifelike Dildo
One thing I have to say about this 10-inch dildo: it makes my life so beautiful, being really big!
It has incredibly realistic head and balls and the fact that I can grip the balls for a stronger and deeper penetration.
It has a tender and comfortable touch and more stimulation are brought by the dildo's ripples.
I play with it in any of my orifices while I increase the sensations by stroking and squeezing the shaft. It is made of natural PVC and it is waterproof. The penetration choices are numerous due to the suction-cup base.
8. Shane Diesel Realistic 10 Inch Dildo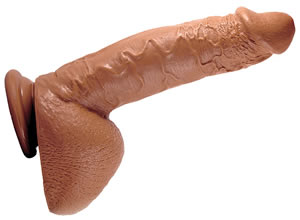 I can't say how many orgasms I had with this 10-inch dildo, but there were many of them!
It is a huge dildo, molded right from the hard cock of pornstar Shane Diesel and it does know how to satisfy me!
This dildo is flexible but firm, it has 7 inches girth in its largest part and a 2.4-inch width.
It is waterproof and I like using it in a bathtub full of soap foam when the relaxation is at the maximum. I use it with all kinds of lubes and on any flat surface due to its suction cup base.
9. Quivering Cock 10 Inch Vibrator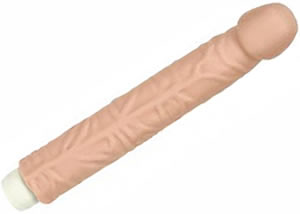 I really have to thank this 10-inch vibrator for the multiple orgasms that it offers to me! It is strong, has multiple speeds and very realistic sleeves.
The soft veins and the big head are the ones that amplify the pleasure. This vibrator has 1.70 inches as width, a circumference of 4.40 inches and 13.60 ounces as weight.
It is also 1.40 inches deep and 1.40 inches wide. The vibrator is made of PVC and the sleeves are made of Non-Phthalate material. It is also available in the black version.
10. Monster Mark 10 Inch Dildo
This 10-inch dildo is my best friend when I want to forget about the stress and to satisfy my kinkiest desires.
Due to the 7 inches circumference and 2.4 inches diameter and of the shaft the vibrator totally fills me. I simply love how realistic the balls and the veined shaft feel!
This sex toy flexes and bends with my body due to the pliable PVC material that it is made of. I use it to play with myself and I also share it with my partner for a true spicy sexual experience.
I know that is hard to decide which 10-inch dildo to purchase from all this list, but, since these are quite affordable sex toys, there is no reason to buy just one. More dildos, more fun and more sensations to live!
Just be careful to use a generous quantity of lube and check which lube you can use with the purchased dildo. Usually, the seller indicates what lube to use for each of the products. Have a pleasant 10-inch dildo shopping experience and amazing experiences while using it!